And That's A Wrap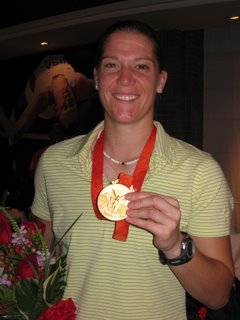 (I forgot to mention in my last post, a pretty exciting fact…our gold medal was the 1000th gold medal won for the United States in Olympic history.)
I wanted to take this time to wrap up my blog. It was a lot of fun to write and keep everybody back home up to date on what was happening over in China and what my Olympic experience was like. These past several months have been very demanding both physically and mentally. Both I and the team have been through many ups and downs during that time, but in the end, what really matters is that we found it in our hearts to unite as a team and go out and prove to everyone what we really are capable of achieving because we believed in each other all along.
The entire Olympic experience was amazing. Even though we did not get to be right in the heart of Beijing for the entire Olympics, we did get to experience a lot more of the Olympic atmosphere and the Village the last few days once we finished competing. I was able to go see some men's team handball with my family, the men's soccer final (Argentina vs. Nigeria), the women's basketball final (USA vs. Australia), and the men's water polo final (USA vs. Hungary). We crammed a lot in the last few days we were there, and despite getting very little sleep, we had a great time. Even though we did not get to experience the Opening Ceremonies, we were able to conclude our fantastic Olympic run in fashion, by attending the Closing Ceremonies. It was such an amazing experience, so I cannot even imagine what it was like at the Opening Ceremonies. To be down on the field with so many athletes from so many other countries to bring the games to a close and see the brilliant choreography was remarkable. It was a great way to celebrate one last time before heading home.
Yesterday, we left the Olympic Village behind us as we all traveled home to our respective homes, but the memories will last a lifetime. It is still hard to believe that I am an Olympic gold medalist. Many people ask me if I am disappointed that I did not get to play in any of the games, and it would be a lie if I said no. Of course I would have loved to have had the opportunity to play in an Olympic game, but at the same time I had a role to fill and mine just happened to not be on the field. I had to be mentally and physically ready to go in at any time, just in case something did happen. I still feel like I was such a huge part of the team, and I believe that we could not have won gold had it not been for a complete team effort from everybody. In the end, I made my first Olympic Team, had my first Olympic experience, and won my first Olympic medal, which just so happens to be GOLD. Now who can complain about any of that?
I want to send a warm thank you out to everybody for taking the time to read my posts and follow the team throughout the tournament. A special thanks to all of my family, friends and everyone else for all of your support, encouragement, and comments and emails you have sent me during my journey. It was so great to hear from everyone and it means a great deal to me that so many people have been following me along this great journey. I do not really think my words could do the whole experience justice, but I hope what I was able to share with you all helped you to have a sense of what the Olympic experience is about and how I was able to live a dream.