Cherish Every Second, Even at 2am….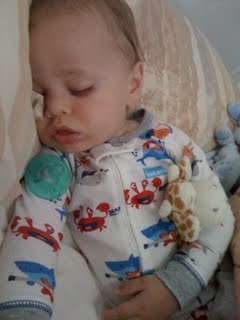 It's no secret to my family and friends that I love my sleep and do not function well without it. This is especially difficult when you are the mother of a young child. Somehow luckily Brody has come to be a great sleeper. For awhile now he goes to bed at 8:30 and wakes up at 9am, we don't hear a peep from him overnight. (I am always nervous to talk or write about this for the chance that I might jinx it!) I also have been sleeping until 9am. One of my friends actually has a theory about how a child sleeps, that the child will end up sleeping how you did when you were pregnant. This could be true too, when I was pregnant I was working at Banyan Productions and our start time was 10am… ahhhh, the days at Banyan. So I did sleep until about 8:30-9am too. Whenever I complain about not having enough hours in a day, my husband always comes back with "You could just wake up earlier". Ugh! Who feels like doing that...? I know one day soon Brody will have school and he and I will have to start waking up earlier, so why not enjoy the sleeping in now?
So anyway the other night I hear crying at about 2am. I go in to check on Brody and he is screaming and completely inconsolable. He wouldn't let me hold him, rock him; he wouldn't sit in the glider with me. He threw his body on the floor and was screaming and slamming his right leg into the ground. I just started to rub his leg and foot, thinking maybe his foot was asleep or it was a Charlie horse? Do toddlers get Charlie horses? He started to calm down a little bit and I brought him downstairs to get some water.
As we sat on the couch, he drank his water and cuddled up with me and rested his head on my chest. I couldn't help but cherish this moment. His one little hand grasping onto mine, even though it was about 2:30 in the morning at this point, I still didn't want the moment to end. I always think about how he won't be little forever, one day he won't sit and cuddle up with me, or be small enough to sit on my lap. He won't have these little chubby fingers and tiny hands that grasp mine. I just sat there and kissed his head. I love this child so much.
Also pretty soon it won't just be us, when new-baby comes~ oh yeah! Btw, if you didn't know I am pregnant again! I'm due in June, so Brody and the new baby will be two years apart. We are really excited and I am just hoping everything goes okay and the baby is healthy. But anyway, soon it won't just be Brody and I, over the last year and a half I have gotten used to doing everything with him. He is my little sidekick. We are together every day and do everything together. I can count the times I have left him overnight, which has never been two nights in a row (I have no clue how I am going to leave him for a week in Feb when we go to Paris) I guess just for now I will continue to cherish every moment with him, what else can you do?
Have you had moments with your children that seemed annoying or inconvenient at the time, but you ended up cherishing?
Labels: being a mom, cherish, mom, pregnancy, second child