To Delco and Back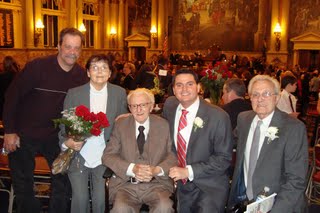 First, let me apologize for not posting recently.
Many of you reading this are already aware that my family suffered a big loss in the passing of my Grandfather, Nick Miccarelli Sr., two weeks ago. It's been a tough time for us, but the sadness we feel is nothing in comparison to the thanks we have to God for allowing this man to remain in our lives for so long. Some close friends of mine were not lucky enough to meet their Grandparents, let alone to have 27 great years with them.
A special thanks has to my unit, especially Major Glen McElroy, Lieutenant Tom Kivlen, Lieutenant Mark Martella, and Sergeant First Class Buzz Houck. These guys had me on a plane bound for PHL in a matter of hours and probably would have carried me to Delco if I had asked them. Their actions were incredible enough, but my family and I were truly blown away when two bouquets of flowers were delivered to our home from the company in Iraq. We truly did not expect soldiers in combat who are already doing so much, to chip in their hard earned money to send flowers back to the United States. I found out later that our First Sergeant Jeff Huttle and Chief Warrant Officer Steve Harper organized the flowers and I truly cannot thank them enough.
Of all the flowers that were sent to the funeral, my Mom and Dad saved two, and I bet you can guess what bouquets they were from.
I could go on for days about what kind of man my Grandfather was, but if you read the blog post below about my Grandfather and Councilman Cohen, you will understand where a lot of the pride our family has comes from.
He taught me to swing a golf club, he taught me how to play poker, and he played G.I. Joe with me.
More than that he taught me that when times get tough, your family is all you need.
He was my role model and a shining example of what a man ought to be. Fair, honest, caring, and brave until the end.