No more time to waste - make the Blue Jays an offer they can't refuse
Roy Halladay
will be traded by 4 p.m. a week from today.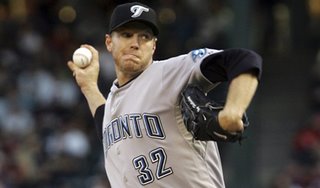 That much is a guarantee. The news came out earlier this week that he will not re-sign with Toronto after next year, when he can become a free agent. The Blue Jays can get the most back for him at this time, rather than in the offseason, when he can be like Johan Santana and limit which teams trade for him into the big-market teams who want to give him a contract extension.
Halladay doesn't need an extension to accept a trade. He might if Toronto waits until the winter.
So Halladay will be traded within a week. That is certain.
Where he'll end up is less certain, although every major sports news organization with a web site has repeatedly stated that the Phillies are the favorites. This might be true.
But would you rather be the
favorite
to acquire Halladay, or the team
that actually does
acquire Halladay? The favorites label does nothing more than get a fan base excited... and set them up for a big-time letdown if their team does not land the player in question.
The Phils may be pursuing Halladay, but so are the Dodgers, Brewers, Cardinals (three teams the Phils could see in the playoffs), Angels, White Sox.... and you probably can't rule out Boston, who is stocked with young pitching but may not be a favorite since Toronto can't possibly want to trade the best pitcher in baseball to a division rival.
The point is, however, the Phils aren't the only team that can sweeten an offer in the next six days. Say the Los Angeles Dodgers throw one of their young pitching prospects (they always seem to have an endless assortment of those) and finally take the "untouchable" label off shortstop prospect Devaris Gordon (Flash's son). And they add a major league-ready arm like James McDonald.
Or, if they really wanted to finalize a deal, the Dodgers could get so aggressive as to consider taking on one of the Jays expensive outfielders, Alex Rios or Vernon Wells (something Toronto would love to do, in shedding more salary) in exchange for a younger, cheaper, better version (Andre Ethier) to seal the arrival of Halladay.
The last two paragraphs are pure speculation, but the point is anything and everything is possible. Thus, it's time for the Phils to pry their hands from Kyle Drabek and whoever else is holding up a deal and get it done before someone else beats them to the punch.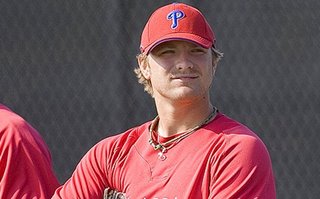 You want
Kyle Drabek
and J. A. Happ? Fine. But then you're not getting either five-tool outfield prospect (Dominic Brown, Michael Taylor). Drabek, Happ and Lakewood outfielder Zach Collier would get it done.
People may be surprised that Toronto would ask for both Happ and Drabek, but put yourselves in their shoes: if you're trading arguably the best pitcher in the game, someone you have control over for another year and a half, aren't you asking for at least two, top pitching prospects in return? The more pitching you get back, the better your odds are that one of them pans into a productive, major league player for the next decade.
From the Phils standpoint, if you lose Happ and Drabek, you live with it, knowing Halladay is giving you not one but two chances to win championships in '09 and '10, and you spend this winter seriously thinking of adjusting your unwritten team policy for giving pitchers more than three-year deals. With exclusive negotiation rights, you lock Halladay up this offseason to a 5-year deal.
If you do that, losing Drabek isn't that big of a deal. As for giving up Happ, Halladay is CLEARLY an upgrade. I understand Happ is hot now, but what if he stumbles in August and September? Halladay is a known commodity.
A rotation of Halladay-Hamels-Blanton-Moyer/Martinez is pretty legit come playoff time.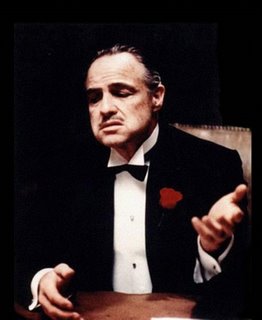 But there is no more time for debate and discussion. Ruben Amaro Jr. needs to get J.P. Ricciardi on the phone sometime this weekend, and play the role of
Don Vito Corleone
- make the Jays GM an offer he can't refuse (minus a decapitated horse's head, of course).
If he doesn't, another team will beat him to the finish line early next week and it will be the organization's biggest regret since drafting outfielder
Reggie Taylor
three picks before Toronto took a high school pitcher out of Colorado named Harry Leroy Halladay in the
first round
of the 1995 draft.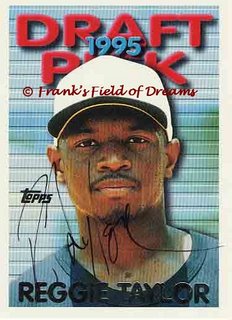 -----------------------------------------------------
If you're in the greater Tampa Bay area this weekend, you can watch Pedro Martinez pitch against the Mets.
OK, not exactly.
The Phils announced today that Martinez will make his first rehab start on Sunday. He'll pitch for Single-A Clearwater, against the Mets minor league affiliate out of Port St. Lucie.
The game is scheduled for 4:05 p.m. at Bright House Field, the home of Phillies spring training.