Star to Watch
MICHAEL FASSBENDERBy R. Kurt Osenlund
,
The Good Life
film critic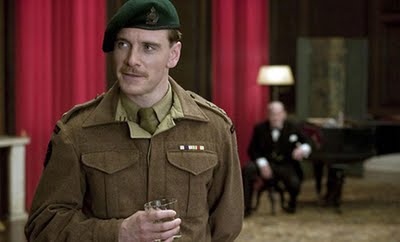 For my money, German-born Irish actor Michael Fassbender is one of the most exciting screen stars working today. Since he appeared in the award-winning HBO miniseries "Band of Brothers" in the early 2000s, the hunky 32-year-old starred in a host of BBC shows until finally making himself known to American filmgoers by playing the warrior Stelios in Zack Snyder's green-screened swords-and-sandals epic, "300," in 2006. Since then, Fassbender's career choices have been challenging, artful and consistently intriguing -- so much so that, at this point, if Fassbender's name is in the cast list, chances are the movie is something special and unique.
Just look at three of Fassbender's most recent projects. In "Hunger," one of the very best films of 2009, Fassbender wowed in the leading role of Bobby Sands, a resolute martyr and the initiator of the Irish Hunger Strike that took place inside the walls of Northern Ireland's Maze Prison. The performance required Fassbender to lose a dramaic amount of weight, but even more affecting is the emotional intensity and gravitas of the gifted actor's work. In Quentin Tarantino's "Inglourious Basterds," another standout picture from last year, Fassbender appeared as a cheeky film critic/spy, and handily rounded out QT's international cast with wit and style.
Now, Fassbender delivers a wholly realistic supporting performance in "Fish Tank," writer/director Andrea Arnold's candid Cannes Jury Prize winner about an underpriveleged 15-year-old girl coping with the pains of adolescence. The UK's answer to "Precious," and the grittiest interpretation of teenage female angst since Catherine Hardwicke's "Thirteen," "Fish Tank" is painfully, unapologetically honest, and much of that honesty stems from the unvarnished turns by lead star Katie Jarvis and Fassbender, who portrays the older fellow who brings both pleasure and pain into the young girl's life. Even with relatively minimal screen time, Fassbender grabs the viewer once again, and once again displays his value as a character actor inside the body of a movie star.
("Fish Tank" opens at the Ritz Theatres in Philadelphia in February.)
"Fish Tank" trailer
: