You'll want to be privy to these private lives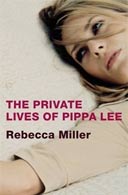 When I finish a good book - one that takes me out of my life, away from the droning of a plane's engine, a cold doctor's office, a mediocre day, and into a story - I go through a little mourning period. Now I have to find another book, and will it be as good?
That's how I felt after finishing Rebecca Miller's "The Private Lives of Pippa Lee," (2008, Canongate Books, 231 pp.).
I devoured this book in a couple of sittings. I didn't know when I was reading the novel that it was Miller's first (she is the author of a book of stories, "Personal Velocity," and director of movies, "The Ballad of Jack and Rose," the film version of this novel), or that she is the daughter of famed playwright Arthur Miller and photographer Inge Morath, and wife of actor Daniel Day-Lewis.
When the novel begins, we are introduced to Pippa Lee, a 50-year-old woman, married to an 80-year-old publishing mogul Herb Lee. Pippa is serene, loving, an accomplished cook and devoted wife. Herb's third wife, that is, but the one who is in it for the long haul - she's the one Herb calls his "true wife."
The couple, parents of two grown and successful twins, have just sold their Gramercy Park and Long Island properties and belongings and moved into Marigold Village, a retirement community where the plan is for Herb to transition into old age and Pippa to go along for the ride. Herb's had some heart problems, and he's supposed to take it easy now. But he still works constantly from his new "retirement" home.
But Pippa, known as one of the community's "young ones," is restless in "Wrinkle Village." She begins to fall into old, bad habits. We are given a glimpse of Pippa as a child, a teen, a young woman. The novel shifts from the third person (the present day) to the first person (the past). Young Pippa's actions fall more on the bad-ass side than you'd expect. Illicit affairs at 16, visits to sex clubs not long after, a latent addiction to uppers.
So when we return to to the present day, it's not such a shock to find Pippa drawn to the much-younger son of a retirement-community neighbor. Or Herb involved in a personal crisis of his own. But the tale's conclusion is not the ending we imagine when we first meet Pippa at her own dinner party, receiving compliments on her butterflied lamb, laughing about being relegated to a retirement community while still quite young and vibrant.
I won't spoil it further by telling you.
If, as the adage goes, we are the sum of our experiences, then Pippa the party-girl turned-housewife is the sum of hers. And following those experiences is an interesting ride.
"I don't have all the answers," Miller said in a November interview with The Associated Press. "It's more that I'm bringing up all sorts of questions and incongruities and things that don't match because that's what people really are, these anomalies. There are all these qualities that don't match within people, and that's what makes people individuals and makes them very difficult to understand and yet also interesting."
I knew, as the paperback book I picked up is graced with the beautiful face of actress Robin Wright Penn, that "Pippa" is now a major motion picture, directed by Miller, of course. It was released in the U.S. around Thanksgiving, and is not yet in any theater that I've heard of (maybe it's not a great film?). Stars include Blake Lively as a young Pippa, Alan Arkin as Herb, and Keanu Reeves as the drifter son of Pippa's neighbor. Also, Julianne Moore, Winona Ryder.
Though the movie is never as good as the book, I'm dying to see it.
At the end of the story, Pippa has a new beginning of sorts, and a new hope. Kinda like I'd like to feel:
"I feel an unfamiliar story unfurling in me. I have no idea how it will go, I don't know who will be in it. I am filled with fear and happiness," she says.