Schiano: 'They're all correctable errors'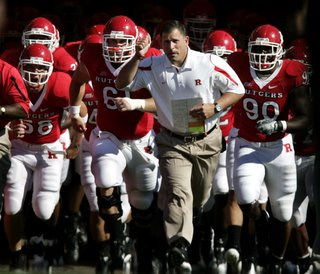 Greg Schiano says his team is close. 
The coach,  whose team suffered an embarrassing 24-7 loss to Fresno State on Monday in its season opener, told reporters on a conference call Tuesday that minor, correctable issues prevented the Scarlet Knights from making key plays against the Bulldogs. 
"If you watch the tape, (it was) one block here, maybe a poor choice there, we underthew one, we dropped one," Schiano said. "We protected very well except for one guy. It's not very far off. They're all correctable issues. Some of the mistakes were by guys who had not played a lot."
Two of the players who haven't played a lot are new starters on the right side of the offensive line: guard Caleb Ruch and tackle Mike Gilmartin. Schiano, though, said both players played fairly well. 
"We need to get better there," he said. "We will because it was both those guys' first substantial experience. But for a first go-around against a pretty good defense, I thought it was a good job. Now, we need to make sure that we correct those mistakes moving forward so we can be more productive." 
The Scarlet Knights' passing game -- expected to be among the best in the country -- stalled Monday, producing only 263 yards. Quarterback Mike Teel completed just 51 percent of his passes while throwing two interceptions and no touchdowns. The first interception -- on a ball he threw into triple coverage on a first-quarter flea-flicker -- was a bad decision, Schiano acknowledged. But Schiano said other than that play, Teel's decision-making wasn't the problem. 
"We underthrew one and we had to throw another one early," Schiano said. "We had Ti (Underwood) open on the first drive on the one rout. We had to throw it a little early because a guy was leaking off a block, so it didn't have time to truly develop and Ti would have to make an acrobatic catch. There was one time we had Ti on a post and he was behind his man and (Teel) overthrew it. Other than that, I thought we threw it well."
The Knights' best chance to score came in the first quarter when, with the ball on the four-yard line, tailback Mason Robinson was stopped after a one-yard gain, giving the ball back to the Bulldogs. Robinson appeared to have an opening on the outside to his right, but chose to go inside instead. Schiano said the plan was for Robinson to cut outside, but that he didn't blame the sophomore from Somerville for staying inside. 
"It was a little bit of frustration on that but personally, as a coach I never question the running back's decision because I don't have the whole defense chasing after me," Schiano said. "We try to educate them on their decisions but if you're questioning a running back's eyes, then they lose confidence in their own eyes. We'll educate them on it and keep educating them on it in practice, but once you get into the game you have to trust your eyes."

Rutgers, which hosts North Carolina Sept. 11, has a closed practice Wednesday, followed by a practice Thursday that is open to the media.