Coke-head cat gets high on leftover drugs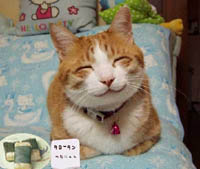 SYDNEY (AFP) - An agitated pet cat left in a cupboard overnight turned out to be high on cocaine and benzodiazepines left over from a wild weekend dinner party, a report said Saturday.
The eight-month-old Himalayan cat arrived at a veterinary clinic with dilated pupils and a racing heart, while the owner said it had trouble walking and was easily startled, The Sydney Morning Herald reported.
Vets Dominic Barfield and Richard Malik, who run a clinic in the Sydney suburb of Double Bay, were unable to take blood or use a thermometer to take the cat's temperature as it was pacing incessantly around its cage.
While the owner was adamant the cat had not been exposed to toxic plants, mouldy foods or drugs, when contacted by telephone the owner's wife admitted the cat could have licked "plates of cocaine" which had been served at a dinner party two days earlier.
A drug screen also revealed the cat had benzodiazepines in its system.
The "remorseful" owner, who was not identified, was counselled and allowed to take the pet home, but no legal action was taken as there is no legal requirement in Australia for vets to report such cases to police.
The case was reported in this month's edition of the Journal of Feline Medicine and Surgery, the newspaper said, but did not specify when the incident happened, other than that it was on a Monday morning.