Hey dude - sweet gondola!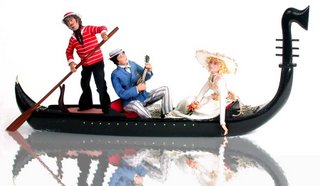 SYRACUSE, N.Y. - Joe Deverell is taking a trip on the Erie Canal to promote the historic upstate New York canal system, to tackle a new challenge and to slow down his life to appreciate Mother Nature's offerings.
While many others have taken similar journeys on the canal over the years, Deverell's trek is a bit different. He will pole along the canal in a 36-foot gondola.
"It's about taking the time to look at the world in a different way. ...It would be easier to stay at home, watch TV and have a couple beers, but there will be plenty of time to do that," said Deverell, 41, a self-employed industrial engineer from Cato, N.Y., who departed on his trip Tuesday.
At 6-foot-2 and a muscular 220 pounds, Deverell appears ready for the physical demands of rowing a 900-pound boat an average of 12 miles a day for the next 20 days.