CARTEL PLAYS THE NOTE, SUMMER RELEASE NEARING COMPLETION.
By Rob Nagy
For power punk pop band "Cartel" success has been a series of challenges taking the group closer to the doorstep of superstardom with each passing year. With the average age of the band only twenty-five Cartel has already produced an impressive catalog of songs with the best still to come. Relying on their talent, direction and focus, the sky is the limit for these already seasoned veterans. Fresh off the road, performing a series of college concerts and spring festivals, Cartel is heading back into the studio to put the finishing touches on their third album before hitting the summer concert trail.
Hailing from suburban Atlanta, Georgia, band members Will Pugh (vocals and guitar), Joseph Pepper (guitar), Nic Hudson (guitar), Kevin Sanders (drums) and Ryan Roberts (bass), Roberts was replaced by Jeff Lett in 2006, formed Cartel in 2003 while attending Georgia State University. One year later they released their first EP "The Ransom" followed by their full length debut "Chroma". The bands high energy pop alternative punk sound caught on with the teenage and college crowd placing them on Alternative Press's 2005 list of "Bands You Need to Know" and Yahoo! Music's winner in the "Who's Next" competition. A major recording contract soon followed when the band signed with Epic Records in 2006. National and international tours followed finding Cartel sharing the stage with "New Found Glory", "Early November", "Cobra Starship" and "Boys Like Girls", just to name a few, both as a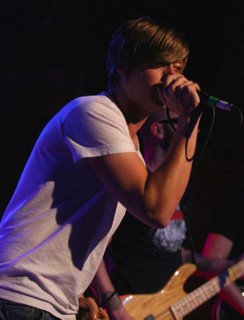 headliner and co-bill through-out the U.S. Japan and Australia. Epic Records recognized the future of a band on the rise and re-released their debut "Chroma" packaged with their live EP "Live Dudes". In the summer of 2008 Cartel parted company with Epic Records signing with Wind Up Records. "We are very excited to have signed with Wind-up Records" says Pugh. "The overwhelmingly positive familial atmosphere of the label has us looking forward to what is certain to be a lasting and successful relationship. We're extremely eager to begin this new chapter in the life of Cartel. With a new label home firmly secured and fresh winds filling our sails we foresee bigger and better opportunities for us to continue to grow and thrive as a band, while building off the same foundational elements that we have always embraced, hard work, endless touring, good vibes and fantastic fan-friendly relations." Over the past year the band has spent more time off the road, writing and preparing for their new release scheduled for a fall 2009. "We've been in the studio during the week and on the weekend we've had shows", says Sanders. Now that we are about to go off the road and focus completely on the album it will be twelve hour days. I am looking forward to putting my head down and just go. I look forward to getting in there, getting a good rhythm and busting it out. For me this is the best part of being in a band", added Sanders. "It's a nice amalgamation of the last two records", says Pugh. "We are trying to consolidate everything and make it powerful the whole way through rather than having little resting points trying to take your breath away the whole time." Pepper added, "There's a solid fifteen nuggets of gold that we hope will pop into shinier nuggets of gold." For a band wiser than their years Cartel has the talent and the attitude to take them as far as they want to go. They are focused on their music objectives while not forgetting the hard work and growing fan base that has made everything possible. "I don't think any of us expected this", says Pugh. "I think we just wanted it so bad and dreamed about it so much that it just kind of happened. I feel like any hard time we've gone through is just another obstacle to overcome. We're incredibly lucky." With an ever changing music climate the business seems to change daily forcing artists to consistently reevaluate their focus and direction. "While in some respects it has gotten easier for bands", says Pugh, It has gotten a lot harder because there are so many more bands." Pepper added, "The attention span of people is short. Songs aren't really timeless anymore. It's so easy for people now to have songs. So a guy or girl can sing and you get a team of songwriters. They get a single and they're big for as long as the song is on the radio and once that's gone there's another American Idol that will take that persons spot and so on." Our prediction is that albums will be gone and we'll be back to single formats", says Sanders. "It saddens most musicians but to everyone else it's like 'Just give me one song.'"
On May 3, 2009 Cartel played an all ages show to a capacity crowd of teenagers and early twenty something's at The Note in West Chester, PA. Coming off a successful set at the annual Bamboozle Festival in East Rutherford, New Jersey, just the day before, Cartel was in great form performing a seventy five minute set featuring songs from all of their releases as well as a few cover songs. Following this show Cartel will take a break from the road to return to New York City to compete their impending release. Look for Cartel to return to Philadelphia when they play the Electric Factory with "All Time Low" on July 12, 2009. To stay up to date with Cartel go to www.myspace.com/cartel
Photo by Rob Nagy