A self-centered post
Whoooooooh! End of a long week. It's 11:37 p.m. on Friday night. Between Monday and now, I filed 6,626 words . Much of it hackwork. Well, nothing can be done. I like to imagine, sometimes, that people are interested in looking at documents like
this one
. It contains all of the stories I filed this week, as submitted to the copy desk. I've decided to start doing weekly word counts. Why? Who knows. Some old hacks pride themselves in how many stories they can crank out in a short period of time. They say things like:
"I wrote five stories on a manual typwriter while drunk, waiting in the ER, with seven nails through my left hand. I was on deadline. Took me seven minutes. Top that!"
Also, I finally located a hilarious picture of me that was taken on Halloween.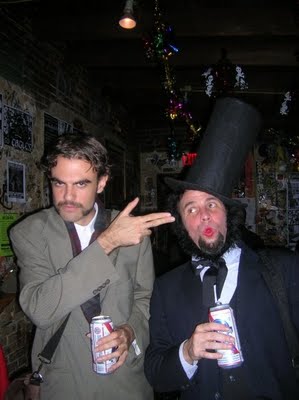 I'm John Wilkes Booth. The guy next to me is "Gaybraham Lincoln." No idea what his real name is. I ran into him at Tattooed Mom's, a bar in Philly. And, as you can see, I assassinated him. By the way, my facial hair is real.
I'm going home.
Labels: Gaybraham Lincoln, Hack