FLYERS ACQUIRE LEINO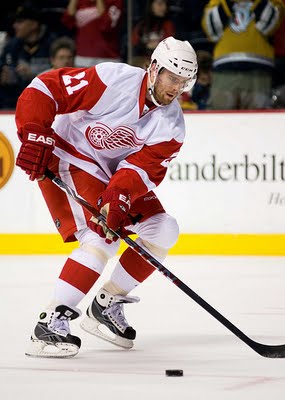 In the first of what is sure to be multiple moves to upgrade the struggling offense, the Flyers acquired Ville Leino from the Detroit Red Wings in exchange for Ole-Kristian Tollefsen and a fifth round pick in 2011 Saturday morning.
Not quite Ilya Kovalchuk, eh?
"Ville is a skilled forward that is going to give us some depth," said Flyers G.M. Paul Holmgren. "I think he has the ability to play up and down our lineup and play with our skilled players. We're excited to have him."
Leino, 27, has just four goals and three assists in 42 games this season. Holmgren added he was hopeful Leino could join the Flyers in time for tonight's game in Minnesota against the Wild.
Detroit originally signed Leino in the summer of 2007 as an undrafted free agent following a solid career in the Finnish Elite League. In 2007-08 he had 28 goals and 77 points in 59 games with Jokerit, and was named league MVP.
He spent most of 2008-09 with the Wings' AHL affiliated Grand Rapids Griffins, where he scored 46 points in 57 games. He then led the club in scoring in the playoffs with 13 points in 10 games.
In 13 NHL games last season, Leino had 5 goals and 9 points, and he had 2 assists in seven playoff games.
Leino makes $800,000 both this season and next season, and will cost the Flyers an additional $200,000 against the cap more than Tollefsen who was making $600,000 and will become an unrestricted free agent at the end of the season.