THE LATEST FROM STATE COLLEGE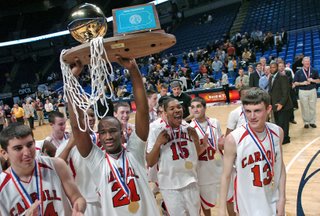 One team is coming home with the hardware. The other one had a hard night.
Archbishop Carroll
's boys basketball team claimed the PIAA Class AAA title over Greensburg-Salem (
game story
). The Patriots said afterward that their rigorous schedule - which featured three games vs. Neumann-Goretti and meetings with Roman Catholic and Norristown - got them ready for this stage (
sidebar
).
For
Cardinal O'Hara
, the trip to Penn State wasn't so memorable. The Lions girls basketball team lost to unbeaten Mt. Lebanon in the PIAA Class AAAA final (
game story
). A magical end to the Lions' season was not meant to be. Once ranked No. 1 nationally, the Lions lost star center Steph Holzer in the third quarter before losing the game (
column
).
# # # #
There, you will find up-to-the-minute updates by the Daily Times staff on Archbishop Carroll's bid for the PIAA Class AAA girls title and Penn Wood's claim on the PIAA Class AAAA boys crown.
Labels: Archbishop Carroll, Bryce Jordan Center, Cardinal O'Hara, Penn Wood, PIAA Class AAA basketball playoffs, PIAA Class AAAA basketball playoffs, Stephanie Holzer