EX-HAVEN COACH LEWIS LANDS AT PENN WOOD
Steve Lewis is back. It's not like he went anywhere; he still lives in Swarthmore. But the former Strath Haven boys basketball coach has been installed as an assistant at Penn Wood.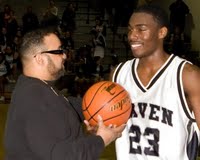 After heading the Panthers for four years, Lewis (pictured, with Haven 1,000-point scorer Calvin Newell) was removed from the team's top spot March 30 after recording a 34-65 record. He directed the Panthers to a 15-12 record last season, which featured a District One Class AAA runner-up finish and a berth in the second round of the PIAA tournament. It was their deepest postseason run in 12 seasons.
Lewis joins a talented coaching staff at Penn Wood, where he will serve under Clyde Jones. The others on Jones' PIAA Class AAAA championship-winning staff are Matt Lindeman, Derek Jones, Con Kirkaldy, Dwight Maness and school AD Rap Curry.
Labels: Clyde Jones, Con Kirkaldy, Derek Jones, Dwight Maness, Matt Lindeman, Penn Wood, PIAA Class AAA basketball playoffs, Rap Curry, Steve Lewis, Strath Haven