O'HARA'S CARZO GETS A SHOT WITH PHILADELPHIA FLYERS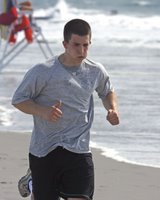 There's a scar on
Rocco Carzo
's left wrist. No larger in circumference than a pencil's eraser, it easily could be covered by a standard wrist watch.
It's Carzo's battlescar. It reminds the gritty, hard-nosed
Cardinal O'Hara
graduate of the work ethic that has gotten him this far - and what will get him even further - in professional hockey.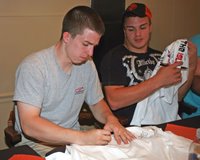 He doesn't expect to get a contract out of it - considering he's only 19 and has a full scholarship to the University of Massachusetts. But in order to get back, to gain another invite to a pro camp, Carzo acknowledges he needs to improve.
Carzo's answer was humbling, when asked to complete this sentence: "To be in this same position with the Flyers next summer, I need to work on...
"Everything," he said. "I have to improve my overall game. People have always said I skate well. I need to pass better. I need to move the puck faster. Because when you're up here, you have to make decisions like that (snaps fingers)."
He's a determined individual. Read about his journey only in the
Daily Times
.
(Photos of Carzo by
Bill Guerro
, Special To The Times)
Labels: Bill Guerro, Cardinal O'Hara, Flyers, Rocco Carzo