Getting the offense going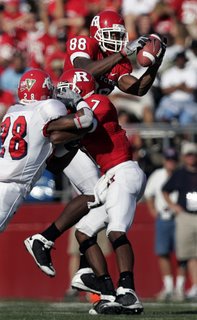 Rutgers had its first full-throttle practice of the week Thursday, vowing to right the wrongs that plagued all three phases -- but particularly the offense -- during Monday's 24-7 loss to Fresno State.  The Knights also worked out Wednesday, but the session was closed to the media, so Thursday was our first chance to catch up with the players since Monday's game. 
It doesn't appear any major personnel changes will be made on either side of the ball, though Greg Schiano indicated Dennis Campbell could get another shot returning punts instead of Mason Robinson. 
But the Knights are going to have to do something in the passing game to compensate for opponents double-teaming Kenny Britt, which Fresno did on Monday and North Carolina will likely do next Thursday. Throwing the ball more to Kevin Brock is certainly an option, and Schiano first addressed the issue in Tuesday's day-after conference call. Schiano said yesterday Rutgers will also try to get the ball more to Tim Brown, Campbell, and Jack Corcoran in order to take some pressure -- and attention -- away from Britt and Tiquan Underwood. Friday's Trentonian will have a story on those options. 
The passing game was the most glaring -- and certainly the most surprising -- weakness, accounting for only 263 yards, no touchdowns and two interceptions. Who gets the blame for that? The consensus from practice is that there's blame to go around -- some to the offensive line, which didn't give Mike Teel enough time to make a good throw on multiple occasions, some to Teel, who made a few uncharacteristically poor decisions and a few bad throws, and some to the receivers, each of whom dropped one or two catchable passes. 
So where do the Knights need to make the biggest improvement offensively? 
In the details, Schiano said. 
"(On) the details of angles of blocks, steps, we're details away from making some big big plays," the coach said. "The reads, I can't put it all on steops on reads, on trusting plays, whih is all football is in the details. You just have to execute the details and not worry about the results as much."

Schiano said on Tuesday's conference call that he had
no worries
about players hanging their heads, and indeed, the players I talked to all seemed to be in good spirits. They're frustrated, perhaps angry, with their performances from the Fresno game, but they don't seem to think the sky is falling. They just think they have some serious work to do, and some serious corrections to make before the Tar Heels come to town next week. 
"Overall the whole thing needs to get better," Teel said.  "I need to get better, the receivers have to get better.  ... I need to be sharper. Im a fifth year senior, I've been playing for three years. I can't go out and play the way I did." 

As for Britt, the junior from Bayone said Monday's double teams were an annoyance, but an expected annoyance that the Knights prepared for extensively during training camp. 
"We expected it. That's why we worked really hard over the summer," Britt said. "That's why the (McCourty) twins and Greeney and those guys worked so hard over the summer. Coach Schiano had us double teamed the whole camp so we'd be used to it. "

Everyone in Piscataway has been saying the Knights were close to making things happen against Fresno. A step here, a block there, a reach there, the Knights say, and there would have been plenty more than seven points on the board. 
We'll get an idea  next Thursday of how many of those wrongs can be righted.