63-14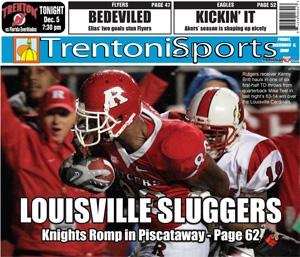 As I was walking across the field last night from the press box toward the Rutgers locker room, the public address announcer reminded the fans who were trickling out of Rutgers Stadium to go to www.rutgersbowl.com for information on the Scarlet Knights' upcoming postseason destination.
When the announcement was done, KISS' "Rock N Roll All Nite (and party every day)" -- a fitting tribute to such a raucous night -- came across the loud speakers.
Rutgers didn't merely beat, blow out or bludgeon Louisville. The Scarlet Knights humiliated the once-proud Cardinals, sending them to their first losing season in 11 years and tightening the noose around coach Steve Kragthorpe's neck. They also delivered one heck of a statement to bowl committees that they'll be quite an attractive commodity, riding a six-game winning streak and pulverizing every team in their path over the past month.
Today's paper has a
gamer a
nd a
replay
box. Tomorrow's will have a folo that will essentially finish these thoughts about going bowling.