Checking in with the coach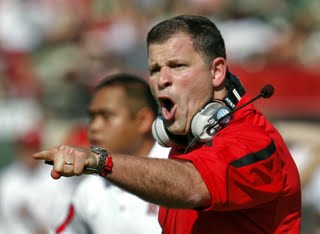 Greetings from the Hotel Viking in historic Newport. Sure, it isn't basketball, but I transcribed Greg Schiano's interview session and figured I'd post it here.

Q. Nuts and bolts: quarterback situation?

A. I think Dom has shown that maturity and understanding and leadership ability, but you have to be careful there because before Jabu was injured he was really doing the same. We have two veteran guys who haven't played a lot in games, but they really do command the respect of their teammates. That's where the competition starts and you know the other three: DC, Steve Shimko and Tom Savage. I've got no preconceived notions. I feel comfortable with our two seniors, who have that wherewithal to lead our football team and will go from there.

Q: Might this be the best offensive line you've had?

A. I don't know. That 2006 offensive line was pretty good. Every one of those guys has played at some point in the NFL, so I think we'll hold judgment on that for a while.

Q: Do you have a timeline on the quarterback competition? Would you like to see it decided early in camp?

A. The earlier the better, but you can't make things happen. We learned that when Ray was a freshman. He had to work his way up the ladder. I don't know what's going to happen. We have good people in a competition and we're going to make it as fair as you can make it while moving the program forward. But when you're getting ready for the game, you need to know who your guy is. You may not know who our guy is but we'll know who our guy is.

Certainly when you have a four-year guy who understands the ins and outs right out the gate, but the other thing is these guys have been around as well, Dom and Jabu, so I think they have a good understanding.

Q: Do you have a sense of what Dom got out of the small amount of playing time that he got?

A. I think any time you've done something in the heat of battle, you're better the next time you do it. Even if its limited, the uncertainty isn't there. He was in the heat of the game. That scramble he converted, that's right in the heat of a game that ended up 12-10, so it's not like it was mop-up duty.

Q: How is Jabu?

A. Jabu's fine. He's prepared to do everything when we start with no limitations, so that's good. It's been a long road.

Q: How about everyone else health wise?

A. Everyone's doing alright. There will be some guys who are limited. Kordell is going to be limited. His knee, he had a little setback. He had a little procedure done to help him over the summer. He kind of had a bad little streak here, and hopefully he can have a stretch where he can play without injury and compete for the job.

Q. Do you forsee him being able to play?

A. I hope so. I met with our doctors and trainers. He's going to be limited when we start, so one thing we need is good feedback. Kordell is one of these guys who's dying to play and going to do whatever we can. We have to make sure he's not doing too much.

Q. You're picked fifth in the Big East. Blame the media?

A. Nothing against you guys, but if you can predict it, let me know and we can all retire early. I think it's hard in any league, but especially in this league right now. I'm not concerned about right now. I'm only concerned about one thing: Getting to training camp and getting ready. There's only one team to beat and that's Cincinnati. After that Howard will be the team to beat.

Q. Do you remember a year when the conference has been this wide open?

A. No, I don't. It's pretty unique. It should make for fun viewing, I think.

Q. You do your best evaluations during the offseason. What did you learn about the start that you had?

A. I think there was kind of a perfect storm in a bad way to start last year. I think as an organization we just reminded ourselves that there are 13 one-game seasons and everything goes into that one game. If you win the game, enjoy it for a night, then start a new season. The other thing our guys did and I think our whole program does is get ahead of ourselves.

Q. Why?

A. I put it on me, to tell you the truth. If I didn't spend a large part of this offseason examining, that's about a crazy a year as I've seen. If I didn't spend a large part of the year examining it, that wouldn't be very worthy for the university. So I spent a lot of time and hopefully we'll remedy some of that.

They're a good football team and I think we're a good football team. I'm sure there will be a different urgency through camp and through everything. That can't hurt you.

Q. Ryan D'Imperio?

A. I expect a lot. He has an opportunity to be as good a linebacker as there is out there. He's thoroughly commited to the game and he's a student of the game and we need him to be there. He's our guy. He's our guy up front. You love coaching a guy like that.

To Ryan's credit, I was standing in the hospital late at night, and he was cheering me up. I'm down in the dumps saying oh no what am I going to do? He's been an inspiration for our football team because of the way he plays. People want to make him out to be this lunchbucket guy, which he is. But he's not only a great effort guy, he's very talented.

Q. Are your linebackers a strength?

A. I'm excited. Damaso has really come along. He' s a very good football player and we have Ryan in the middle, but we need to find out who that third linebacker is going to be. The obvious ones are Antoni Lowry and Manny Abreu, but there are some freshman who I think are going to stick their noses in. That one on defense is really the big one that we have to figure out.

Q. Where do you think the Big East will be in five years?

A. That's a great question. I think if you look at the league, every one of the teams is ascending and where that takes us, I don't know yet. There's so much right now. The bowl agreements are up right now. I think John mentioned that the BCS moving forward for the next four years. When this thing reformulated, we sat in that room and Mike said 'guys, we can talk all we want. But talking is not going to matter right now. We have to win games. So we didn't win them all, but our conference has done a heck of a job. I think you have a bunch of fighters in this league and I don't see that changing, but where that puts us in five years, I don't know. That depends on the rest of the landscape.

Recruiting the right kids for Rutgers. That's been our thing, recruiting and developing. When you get there not only as football players. We're really proud of our APR ranking. We're really proud of our football program. If you're building a team and it's one and done, that's one thing, but if you're building a program we need to keep building it.

Q. You're going to have 52,000 for Cincinnati. Are you going to have 52,000 for Howard and Texas Southern?

A. You know, I don't worry about that stuff. I really don't. We're going to play as well as we can and we'll see what happens. I'm not going to worry about it. More importantly, a year or two or three down the road, my vision is are we putting another deck on the stadium.

Q. Will you look out there at the extra seats and look back at the days when you were drawing 24, 25,000 a game?

A. 24, 25. You're being too kind. We played Temple on a rainy night and literally the rain was coming down sideways, and they announced 12,500. So unless I had 12,000 family members there I doubt that was the number. But it's come a long way. Unfortunately the whole country is in a little bit of a mess right now in the economic department, and it affects everyone. When it affects the New York Yankees, I don't know if Rutgers is going to ammune. But I know one thing, in the New York area, in an event-driven area, if you win, they will come. You're fighting for the entertainment dollar, that's what it is. And our season tickets are considerably up, just not as much as you'd hope given our season ticket waiting list.