Look out, Tiger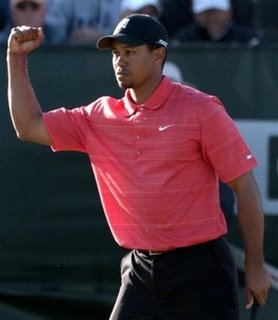 NEWARK, N.J. - The men were still calming themselves after witnessing a member of the foursome, Thomas Brady, score a hole-in-one, when Dennis Gerhart stepped to the tee. One stroke later, the celebration began anew. Gerhart had also holed out.
"I've never heard of that happening anywhere in the world," Jim Woods, director of golf at Forsgate Country Club in Monroe Township, said Thursday, a day after the dual aces were recorded on the club's Banks Course. "Two balls on the same hole in the same group is pretty impressive."
Holes-in-one are rare. Neither Brady nor Gerhart had ever made one before. The odds of a golfer scoring an ace: 5,000-to-1. But the odds of two players in a foursome performing such a feat are 17 million to 1, according to a Golf Digest article in 2000.
"To have two happen like that, back to back, is just unbelievable," Brady said Thursday.
Brady, 41, of Lopatcong, used a 6-iron on the 179-yard seventh hole, a downhill par-3. It hit the green and rolled about 30 feet into the hole.
"Everybody was just high-fiving each other," Gerhart said.
Gerhart, 57, an electrical contractor from Point Pleasant, then made his ace with a 5-iron after hitting to about 20 feet. "It landed on the green and started trickling toward the pin. I thought it was going to stop short, but it kept rolling," he said.
"His ball hit in almost the same spot on the left side of the green and rolled to the hole," said Brady, a regional manager for Cooper Electric Supply, of Tinton Falls.
The group could not be sure the ball wasn't behind the pin until they drove up to the hole, he said.
"It was just utterly incredible," Gerhart said. "I'm just ecstatic when I stick the green and get a shot at par."