FLYERS INTERESTED IN TORRES?/ WAIVE SYVRET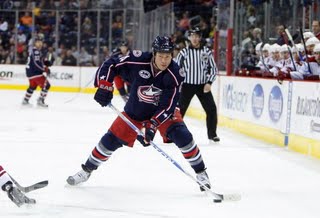 Burning the candle at both ends today having spent seven hours at the Carpenter Complex for Phillies' spring training, I learned tonight the Flyers are trying to acquire a scoring winger before Wednesday's trade deadline.
According to sources in both Columbus and Philadelphia I was told tonight that the Flyers and Blue Jackets have spoken about Columbus forward Raffi Torres.
Torres is having one of his best seasons with the underachieving Blue Jackets and because he will be an unrestricted free agent at the end of the season is attractive to teams looking for scoring help.
Torres, 28, has 19 goals and 30 points so far this season and would be a nice fit on the right wing of a line with Mike Richards and Simon Gagne.
The problem is he has a cap hit of $2.75 million, meaning the Flyers need to create some space to fit him - or a player of his ilk and similar salary.
They may have started that process by placing defenseman Danny Syvret on waivers.
Syvret, 24, is recovering from a shoulder injury and was hoping to return to the Flyers in the next two weeks.
He has two goals and two assists for four points in 21 games with the Flyers and has a cap hit of $575,000 for this season.
A Flyers source told me they still might keep Syvret on the roster, depending on what happens in the next 60 hours or so.
General manager Paul Holmgren replied to an email I sent him asking what was behind the decision to waive Syvret.
He sent me a one word response:
"Options."
However after talking to a couple sources in Columbus today and then later with another Flyers source, it became apparent that conversations have happened between Holmgren and Columbus GM Scott Howson about Torres.
From what I can glean, Columbus is looking for a second round pick, something the Flyers don't have to give up.
But, that doesn't mean they couldn't come up with something equally tantalizing to Columbus to pry Torres away.
It should be noted that there are other teams interested in Torres and that by no means does this indicate the Flyers are a frontrunner or have made Torres their prime target, but if nothing else it gives us a sense of what the Flyers are looking for - a forward who can score with an expiring contract in the neighborhood of $2-$3 million.
There are a bevy of those types of players, and we will delve into them tomorrow. But, the wheels are being set in motion. Look for the Flyers to try to be creative and do something on the offensive end of things by Wednesday.