Knox: Best Chester team ever
If
Chester
beats
Norristown
today for the
PIAA Class AAAA state title
, the Clippers will be remembered as the best team in school history. Not my words, but those of former
Daily Times
' boys basketball writer
Rob Knox
. Here's his reasoning: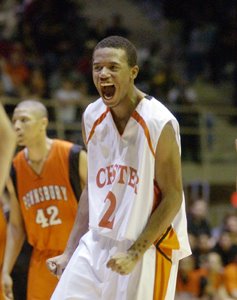 Lockdown defense.
"Forget the talent and the Division I prospects," he said. "What seperates this Chester squad from the others is its ability to play lockdown defense when the offense isn't clicking. This is the Clippers' best defensive squad in quite some time."
Better competition.
"Think about this: if Chester wins Saturday, it would have defeated a pair of teams (Pennsbury and Norristown) in its last two games with a combined 62 victories," Knox said. "That's impressive. The 2000 team didn't do that and the 2005 team didn't do that, either."
In the end, Knox said, you'll have to judge for yourself.
"Those (past) teams were great in their own right, but considering the schedule Chester played ... it's hard to argue against this Chester squad being the greatest of the modern era."
ABOUT TODAY'S GAME
If you're heading to State College today, be sure to pick up a copy of the
Daily Times
. It's loaded with useful information about tonight's game. It features updated rosters and schedules from both teams; their histories in the state title game; and plenty of insight. Safe travels and see you in Happy Valley.
Labels: Chester, Norristown, PIAA Class AAAA playoffs, prediction, Rob Knox