CLIPPERS, COMMUNITY RALLYING BEHIND REEMY
An unfortunate incident plagued the
Chester
Clippers basketball team this winter. One of their players - freshman reserve
Kareem Robinson
- was wounded in the lower back by gunfire Feb. 10.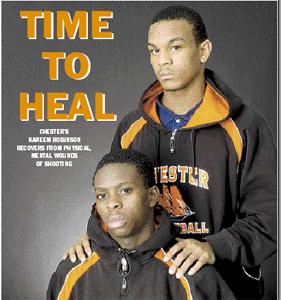 Robinson, who missed the remainder of the Clippers' season, spoke to the
Daily Times
for
an exclusive look into his recovery
process.
According to Robinson, it won't be an arduous one for the 5-7, 125-pound point guard, who is already back in the gym shooting and has a tremendous support system behind him. Fans, coaches and teammates met Robinson in his hospital room the night of the shooting, and have been by his side ever since.
Kareem's big brother
Laquan Robinson
(pictured, background) misses playing with Kareem. So did the rest of the Clippers. "Because I couldn't play," Kareem Robinson said, "we talked basketball all the time. That's all we could do."
Kareem Robinson was on the bench for the Clippers' seven playoff games (five district, two state), including their season-ending 62-49 loss to Williamsport March 11. Who knows how far the Clippers could have gone with their sparkplug freshman in the rotation? He posted some strong numbers in his first season at Chester. Here are his per-game averages: 6.1 points, 2.8 steals, 2.2 assists, 2.0 rebounds.
Robinson is on his way to a complete recovery.
"We missed him a lot," Chester coach
Larry Yarbray
said, "but he'll be back for us next year. He's still smiling. ... The important thing for him was understanding that he's in the Chester Clippers' family. Once you're in the family, you're always in the family."
Labels: Chester, Daily Times exclusive, Kareem Robinson, Laquan Robinson, Larry Yarbray