HAVEN'S SEASON, NEWELL'S CAREER END BITTERLY
Last week, I blogged about the inadequacy of the PIAA when it
allowed Glen Mills to host
a play-in game to the Class AAAA state bracket.
And here we go again.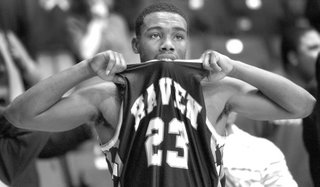 In Tuesday's second round of the Class AAA playoffs, the game between District One's
Strath Haven
and District Three's
York Suburban
was officiated by . . . a District Three referee crew from Berks County.
York Suburban won the game, 59-45. In the contest, York went to the foul line for 20 attempts and Haven had 10 free throws. The Trojans were whistled for seven fouls and the Panthers were called for 18, including a technical. Clearly, we have a couple discrepancies on our hands.
Now, I don't want to be the one to call out the PIAA this time of the year. And by no means do I want to insinuate that the referee crew was making calls to favor York. I saw the exact referee trio at the
Archbishop Carroll
/
Phoenixville
game last week, and they were just about as fair and thorough as I've seen all season.
And with 64 playoff games across the boys and girls hoops scenes taking place in a 48-hour span, it's safe to assume that Pennsylvania's governing body for high-school athletics is probably stretched a bit thin.
But… when your season is on the line, a line has to be drawn.
"I don't think it came down to that," said Strath Haven coach
Steve Lewis
. "I don't think my team made the right decisions, the ones necessary to win the game."
Added star guard
Calvin Newell
: "I wish they would have let us play the game and made it a little closer (in foul calls)." When Newell, pictured, was informed that a District Three crew called his final high school game, he said, "It happens."
The fact is, it shouldn't. The PIAA should know better, so as to preserve on-court talent as the dividing line between teams, and not the scheduling of a referee crew.
Labels: Archbishop Carroll, Calvin Newell, Glen Mills, Phoenixville, PIAA Class AAA basketball playoffs, Steve Lewis, Strath Haven, York Suburban