Joseph Skillman Chamberlain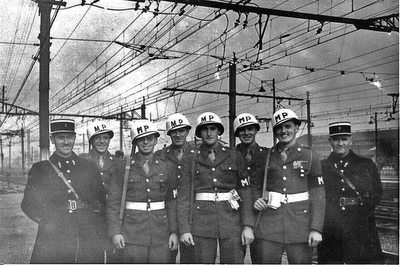 From the left: French guardsman, Capt. Ray Cuary, Private Boyd Kilgore,
PFC John McRee, Sgt. Victor Contartini, Sgt. Joseph Chamberlain, Capt.
George Tauge and a French guardsman.

(Photo courtesy of Hopewell Valley Veterans Association)
Namesake of Hopewell Twp.'s Memorial Field took part in a
mission to
transport Charles de Gaulle from Algeria to France after World War II


By Janine Logue
BucksLocalNews.com Editor
For six United States soldiers, World War II was a chance for them to change history by ensuring the safe passage of a political refugee from Africa back to France.
One of those six soldiers was Sgt. Joseph Skillman Chamberlain, a resident of Titusville, member of the United States Military Police and Hopewell Township's Joe Chamberlain Memorial Field's namesake.
The political refugee was Charles de Gaulle, an outspoken and dedicated leader in the fight to free France from German occupation.
World War II was a time of great political unrest in France. Many in the French government, including de Gaulle, who was minister of war, and French Prime Minister Paul Reynaud, wanted to resist the Germans and fight against Nazism.
Unfortunately for both men, Henri-Philippe Petain overthrew Reynaud in June of 1940, before any definitive action could be taken against Germany.
Under Petain's command, the French government began to seek alliance with Germany.
Not a man who easily gave up, de Gaulle fled to England where he gave a radio address to the French people. In his address, de Gaulle urged the people of France to continue the fight against the Germans.
Winston Churchill, Britain's newly-appointed prime minister, openly recognized de Gaulle as the leader of the "Free French."
Petain, who not only held a political grudge against de Gaulle, but also a personal grudge stemming from earlier friendship, responded to the de Gaulle's radio address by publicly denouncing him and on July 4, 1940, court-martialing and sentencing him, in absentia, to four years in prison. Less than a month later, Petain court-martialed de Gaulle again, this time sentencing him to death.
Despite a death sentence hanging over his head, de Gaulle spent the next three years trying to organize a Nazi resistance movement in France. However, in 1943, the Gestapo arrested two of de Gaulle's major collaborators and the resistance movement fell apart.
By this time, de Gaulle had fled to Algeria, where he formed the French Committee of National Liberation, later renamed to the Provisional Government of the French Republic.
By 1944, the USA and Britain had both agreed that de Gaulle should be involved in the administration of the liberated sections of France.
It was important to bring de Gaulle back to France from Algeria, but parts of France, including Paris, were still under German control. The assassination of de Gaulle by German forces could have far devastating effects on the morale of the French resistance soldiers.
Because of this risk, USA forces were used to safeguard de Gaulle's passage back to France.
On Aug. 20, 1944, with an escort of six men — including Sgt. Chamberlain — from the United States Military Police's 795th Battalion, de Gaulle was safely returned to his native France for the first time in over four years.
Shortly after returning to his homeland, de Gaulle was able to represent France at the signing of the final instrument of surrender with Germany.
Thanks to Sgt. Chamberlain and the men who worked along side him in 1944, de Gaulle was able to continue a political career in France that eventually led to the independence of 13 French African colonies.
After Sgt. Chamberlain completed his Algerian mission and returned home, he decided to focus his energies on more local needs by donating a baseball field to his local community.
According to Sgt. Chamberlain's brother, Bob Chamberlain, the sergeant continued to maintain the field years after he had donated it to the community and asked only that the township provide fuel for his tractors.
The field, which was dedicated and named for Sgt. Chamberlain shortly after his death in 1970, is located behind the Hopewell Township Municipal Complex and is still in use today.
Bob Chamberlain, talking about the dedication ceremony, said "I threw the first pitch out after they named the field after him [Sgt. Chamberlain]. His wife was supposed to do it but she handed me the ball saying 'I can't do this.'"
Labels: Hopewell, Military Police, World War II