show review; Tin Bird Choir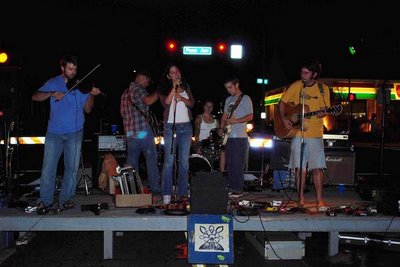 I happened on Tin Bird Choir as an almost accident, but I'm glad I did. I was in town while they were playing and our online editor, Matt Byrd, invited me to sit in on their podcast. While I was listening to him interviewing them, I was taken with how at ease they all were, and even though only Heather Eric are married, everyone seemed like a family. They were casual with each other and they took this feeling to the stage with them. Quite a few times during the show, they called for a "social," which was inviting the audience to have a drink with them.
But on to the most important part of a review: the music. I was most surprised by Heather's voice. There were songs where it definitely wrapped around the room, making it swoon and other times when her voice was so powerful I thought it couldn't stay contained in her body. Each band member knew what they needed to do on stage to make a perfect fit and everyone found their place easily. It was the same ease they had while sitting together before the show. There were no egos or agendas to get in the way; it was just friends making music and being happy to have the opportunity to do so. This atmosphere allowed each member to shine throughout the show.
They call themselves "barn rock;" I guess a throwback to where they do their practicing. It's fitting though. It's slightly country, slightly rock and definitely good, wholesome music that you can't help but enjoy listening to. It's one of those shows where you walk away saying "yeah, that was good, let's do that again." to your friends ... and you mean it.
Check them out, let them grow on you, and join one of the coolest families around.
Posted by
Laurie Perini