The Verdict Is In for Battle of Bands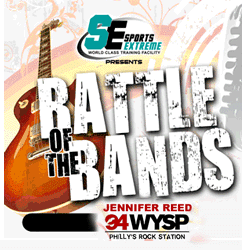 From the bright lights of Philly to it's little rustle-n-bustle suburbs, Saturday night was excitedly electric. Sure, south-eastern Pa was awash in torrential downpours, a Who concert, a Flyers game, and--oh yes, a late night MONUMENTAL WORLD SERIES GAME.
But some of the brightest noise to spill forth that night came from a little corner of the 422 Business Center in Oaks.
The first Roctoberfest Battle of the Bands held at Sports Extreme's Cisco Arena was a sure success; a fine display of showmanship, respect--and of course--music. The 10 bands amassed a wide variety of sound and style, bringing together a collection of about 100 fans from Reading to Downingtown to Philly. There was a song for everyone there, from
Dave Spencer
's coffeehouse blues to the uncanny Philly funk of
The Final Touch
to the classic rock finesse of
Rocket 88
to the emo punk of
NinetyNineNorth
.
Stan Huskey (editor of
The Times Herald
), Samori (
Lil Drumma Boy Recordings
) and I got to be Simon Cowell, Randy Jackson, and Paula Abdul to the battling bands (rest assured, none of us owned up to being the Paula of the group.)
Hometown heroes-
Rocket 88
-took home the crown, but it couldn't have been closer.
Furious Waffle Party
put up a close and valiant fight, bringing their rabid fanbase in full tow.
Woodland Avenue
's impressive guitar solos and funky style scored well with us judges.
Evolv
gave the most impassioned performance of the night--also bringing a drove of fans.
Dave Spencer
, who looked the most comfortable on stage, also came close to claiming the crown.
Rocket 88
that won us all over. Though the high schoolers were probably the youngest guys to take the stage and still raw eggs in the pan, they totally cooked. How often do you find guys their age that even know "Rocket 88" is arguably the first rock n' roll songs written? Or how often do you find a drummer that young who can also provide lead vocals?
Rocket 88's stage energy was surely upstaged by a handful of the other groups, but they were also the only group to really take anyone out of the moment and out of their seats.
The drummer/singer performed with Jagger-swagger and a strong sense of confidence. With his denim sleeves rolled up Boss style, enormous Blues Brother shades and a Ray Charles head bob from behind the kit, he had the most personality of anyone to take the stage. When the foursome launched into their closer--a cover of The Allman Brothers' "One Way Out"--jaws dropped from anyone there who knew the original. The music was nearly note for note and their center staged guitarist (I haven't caught their names) took over on vocals bearing a haunting resemblance to Gregg Allman's pipes. Stunning.
But what about other show highlights?
Well, the night's ultimate rad moment goes to Pottstown's
HarpHaven
for their swamped up and
totally
sick cover of Johnny B. Good. Heck, the drummer even kicked it off Back To The Future style--"Alright guys, this is the blues riff in B. Watch me for the changes and try to keep up, okay?" Frankly, if the singer had gone feedback ape nuts during the song, and then finished saying "Guess you guys aren't ready for that yet...but your kids are gonna love it," I would have given them perfect marks across the board. Their original tunes showed promise, but have a ways to go before they can match their Johnny B. Good cover.
While NinetyNineNorth didn't offer anything new from the teen-emo scene (which is the general repeating problem with the teen-emo scene) I did enjoy watching them blow up with Rise Against's "Injection" and Brand New's "Quiet Things That No One Ever Knows." Their lead guitarist wielded some fancy moves, but they seemed a little disjointed. If they take the time to find their voice, I think they have a future.
Last minute additions to the battle,
The Final Touch
came from Philly to sub in for
From The Balcony
who bowed out at the last minute. And boy did they bring a fantastic set to kick off the show; very Philly-funkified. Their drummer--wow. Sickest skin pounding I've ever seen from 15 feet away, if not ever. It's amazing those drums still stood when he was done. Their bassist--laid some of the funkiest funk down. The lady singers and key player--stunning and talented and rode the beat well. It's comforting to see Philly still turns fiery soul groups like this.
All in all though, it was a great night all around. Every band should be proud of what they produced that night. It never got boring and it really was hard to say some groups were better than others. It's remarkable that talent this good is tucked into the area here and so many of us aren't hearing them. Check out all these bands at
www.rockaroundphilly.com
.
Labels: Battle of the Bands, Rocket 88