Rob Zombie prepares re-make of The Blob; Phoenixville may want to start running out of theatre now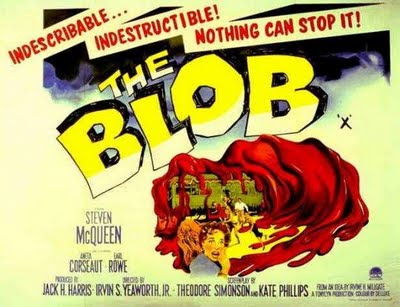 It's indescribable! It's indestructible! (It's inevitable!) Nothing can stop it!
No, it's not
The Blob
; it's a re-make of The Blob!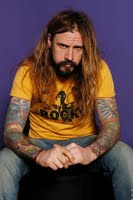 If you haven't already read in the rags, director/musician Rob Zombie plans to re-make Phoenixville's biggest claim to movie fame, The Blob. Why? Because Hollywood has mostly forgotten how to hatch new, exciting ideas for movies. That's why.
Though this hardened cult classic was already re-made once before (in 1988, by director Chuck Russell), the well, apparently, has a few drops left at the bottom yet.
And most people like to pretend
that
remake never happened. But maybe,

just maybe

, third time is the charm?
This article from Variety indicates Zombie plans on putting a new twist on the tale, but doesn't offer much in details other than production is chalked to begin next spring.
"My intention is not to have a big red blobby thing -- that's the first thing I want to change," Zombie said. "That gigantic Jello-looking thing might have been scary to audiences in the 1950s, but people would laugh now." -

Rob Zombie



I see your point, Rob, but how can you make

THE BLOB

without

A BLOB

? Maybe you

should

try going in a more Ghostbusters type direction with sci-fi comedy, opposed to sci-fi horror blood, guts, and bones. Just a thought.
(Not that I want to see a re-make of Flubber of course.)
Of course, if Zombie can give it new life and properly update this story for the 21st century, that is something to get excited about.
Isn't it?

But the real question is; what do

you

think about this, Phoenixville? This is YOUR movie, after all. Much of the magic of the original Blob is the various locations it was filmed in (all around our area, from Phoenixville to Chester Springs and Valley Forge), including your own Colonial Theater, which you triumphantly honor each and every summer with Blobfest, as you dart out of the Colonial's entrance hollering yourself hoarse alongside other Blob fanatics from around the country in glorious re-enactment style.
What does this mean to you?? Is this upsetting? Expected? Awesome?!


Would you be more offended if this 're-make' was filmed in the area - including The Colonial - or if Zombie shunned the classic's roots and filmed the whole thing in Nova Scotia, or something? (The 1988 remake was filmed in Louisiana.)
And if it's gotta be re-made, is it at least interesting to you that Rob Zombie is providing the vision for it?
He won some acclaim for his own films (House of 1000 Corpses and The Devil's Rejects), but his remakes of John Carpenter's untouchable Halloween and Halloween II seem to have upset more fans than not. (To be fair, no one could put their own stamp on those movies and do a better, more horrifying job than Carpenter.)
Whaddaya think? Good idea/bad idea?
What's next? A re-make of Gone With The Wind, starring Jennifer Aniston and Owen Wilson?
Now THAT would be scary.
Labels: my lack of faith in the horror film genre is frightening, Rob Zombie, The Blob