Wine Tips of the Week - House Wine and Calvaresi Reisling
"Cheers" from Vintage Connections
Dean and Lisa Foster, Wine Educators and Consultants
Last chance to register for
Wine after Five with Chocolate at the Gallery School of Pottstown this Saturday, Feburary 13 at 6:30 PM.
Go to the Gallery's link for more information and to register for this Valentine Day's treat.

http://www.galleryonhigh.com/wineafter5.html
House Wine 2006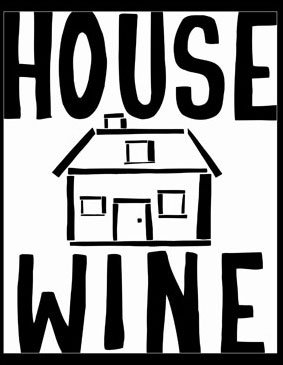 From The Magnificent Wine Co. in the Columbia Valley, WA. This was a pleasant surprise. Don't let the rustic label fool you into thinking you will be tasting someone's first try at homemade wine. A blend of 73% Cabernet Sauvignon, 10% Merlot, 8% Syrah, 5% Sangiovese, 2% Malbec and 2% Cabernet Franc, this wine has great flavor at a great price. Rich deep red in color, the flavor is bold and complex with soft tannins. It has flavors of dark berries. Alcohol is 13.9% by volume. On sale at many PA Wine and Spirits stores for $10.99 (regularly $12.99). PLCB product code 5656. Always check your local store's inventory for availability at the PLCB Product Search page at
Calvaresi Riesling 2008
- From Calvaresi Winery in Bernville, PA.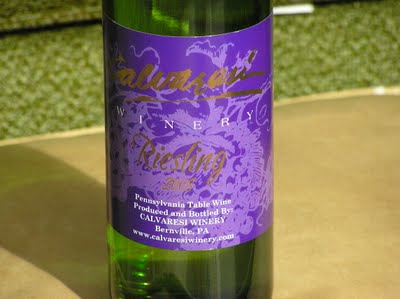 This is one of our favorite Rieslings. It is full of fresh floral aromas, citrus flavors and well-balanced acidity. Even though it has 2% residual sugar, the acidity balances it so well that it doesn't taste sweet, just wonderfully floral and citrusy. As Tom Calvaresi says himself "Rieslings are one of my pets" and year after year he makes an exceptional Riesling. Available only at the winery for $12.95. Alcohol 12% by volume. Great with spicy Asian food or all by itself. It won a silver medal at the PA Wine Competition. Check out Tom's other wines and hours of operation at his website
http://www.calvaresiwinery.com/
Up-coming Valentines Events

Wine after Five with Chocolate! Wine and food pairing seminar. Five wines paired with five chocolate desserts prepared by Chef Steve O'Donnell.
At the Gallery School of Pottstown
Saturday, February 13, beginning promptly at 6:30 PM
(snow date, Saturday February 20)

Begin with Manatawny Creek Winery's Sparkling Raspberry and White Chocolate Mousse.
End with Bogle's Phantom, a wonderful rich red blend, and decadent dark chocolate dessert.
$120 per couple, $65 single, $55 per person for Gallery members.

For more information and to register, go to the Gallery's website at
Berks County Wine Trail, Wine and Chocolate Weekend

Saturday and Sunday, February 13 and 14


Cookies and Wine for Valentine's Day
at Galen Glen Vineyard and Winery
Pottstown Mercury Blog Site
The Pottstown Mercury has started publishing our weekly wine recommendations on-line in
The Grapevine
, a blog you can access through the Mercury's on-line edition at
http://www3.allaroundphilly.com/blogs/pottstown/grapevine/blog.html
Thanks

to those of you who have posted comments on both sites. Please take a look and post some comments of your own. We'd really like to get some wine discussion going on these two blogs.



Additional Upcoming Wine Events in the Pottstown Tri-County Area

Thursday, April 22, Wines of the USA, one night wine seminar at Montgomery County Community College's West Campus in Pottstown, 6:30 - 9:30 PM, $52.

Thursday, April 29, Wines of the World, one night wine seminar at Montgomery County Community College's West Campus in Pottstown, 6:30 - 9:30 PM, $52.
Wednesday, May 5, Cinco de Mayo, wines from Spain, Chile, and Argentina at the Gallery School of Pottstown.
Begins promptly at 6:30 PM. Cost TBD.

Saturday, October 23, Mom's House Benefit Wine Tasting Dinner. Location, Time and Cost TBD.

Many other events are TBD. Contact us to schedule an event in your home, at your business, or for your organization.
Vintage Connections
provide
* Wine Appreciation Classes and Seminars
* Customized Educational Wine Tastings in your home or at your business
* Benefit Educational Wine Tastings for non-profit organizations

Vintage Connections
Lisa and Dean Foster
Labels: Calvaresi Riesling, House Wine