McNABB PROCLAIMS "EAGLES BY 50"!
Philadelphia, PA – Today at his day after practice daily press conference, Philadelphia Eagles quarterback Donovan McNabb made a bold statement. "I'm predicting at least 50" proclaimed McNabb, referring to this weekends upcoming meeting with the undefeated New England Patriots. The question referred to how the Eagles matched up against the perennial powerhouse Patriots. McNabb used this moment as a show of bold characterization as he boldly went where no man has gone before. "It will be a tight game and we will hang in there to the end", said McNabb. "We have to play smart football and not ever let New England get their hands on the ball."
McNabb said he met with Patriots quarterback Tom Brady the night before at a charity event and Tom had really gotten a kick out of McNabb's prediction. "Tom's a really smart guy and he knows the game of football", said McNabb. Tom felt that I was right on the money with my prediction about the outcome of Sunday's game.
When asked what was Tom's reaction to the fact that McNabb was predicting the Eagles to win by 50, McNabb quickly responded, "Woah, back the tape up, rewind a minute." Win…no, no, no…I am predicting we lose by 50. Those guys are awesome! Did you see what they did to the Dallas. We can't hang with them. "They are ten times better now than when they beat us in the Super Bowl", expressed McNabb.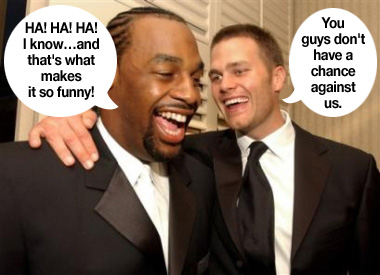 Now with everyone in the press conference in a state of complete disarray, a reporter asked McNabb how the team was even game planning this week. "Simple", answered McNabb. Coach Reid has us game planning on how to fake injuries. That way when all of our starters are carted off at once, we can blame the injury bug for our loss.
Today was the first time a professional athlete has actually come out to the media predicting that their team would ultimately lose. McNabb seemed very confident in his proclamation and said he would likely be a game-time decision on Sunday due to an aggravated nerve condition known as 'belichickitis'.