North Carolina at Rutgers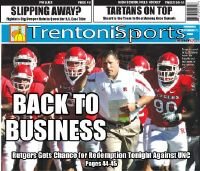 Greetings from Rutgers Stadium, where the Scarlet Knights host the Tar Heels on ESPN Thursday night football. We're going to do things a little differently this week and use this as an open post for game updates, rather than put up separate posts during the game. 
To get started, a few links: 
Follow this
link
to get to the radio broadcast online. 
Update, 7:40: We're minutes from kickoff, and have a couple depth chart changes: Most notably, Mason Robinson will start at running back in place of Kordell Young. Also, as expected, defensive end Gary Watts is out with a knee injury, and freshman Eric LeGrand replaced him on the two-deep. LeGrand and Jonathan Freeny will back up starters George Johnson and Jamaal Westerman.  Fans were handed mini American flags before the game along with white towels, and the towels are waving everywhere after the Knights came out of the tunnel. 
Update, 7:58: San San Te's 34-yard field goal -- the first of his career -- gave the Knights their first lead of the season at 3-0 with 10 minutes to play in the first quarter. Mike Teel completed 4-of-5 passes, narrowly avoiding an interception when Trimane Goddard let one slip through his hands. Jourdan Brooks got his first career carry on a third-and-short and rushed nine yards for a key, drive-extending first down. The drive: eight plays, 56 yards, 3:55 resulting in Ice Te's field goal. 
Update, 8:18: Rutgers' second drive stalled after Tiquan Underwood and Kenny Britt were drilled by defensive backs and dropped passes on consecutive plays. Teddy Delleganna's punt went into the end zone and the Heels took over at the 20 after a touchdback. 
Update, 8:27: Rutgers leads 3-0 at the end of the first quarter. Mason Robinson carried the ball six yards on the Knights' first play of their third drive, and the Knights will start the second quarter with a 2nd-and-4 at their own 33. Jamaal Westerman sacked UNC QB T.J. Yates for a nine-yard loss, forcing the Heels to punt on their previous possession. 
Update, 8:34: Jay Wooten's first career field goal attempt was good from 43 yards out, putting the Tar Heels on the board and tying the game at 3 with 13:26 left in the first half. Mike Teel was intercepted by Charles Brown to give the Heels the ball back deep in Rutgers territory. Teel has thrown three interceptions this year and no touchdown passes. 
Update, 8:45: Talk about secondary breakdowns. Hakeem Nicks couldn't have been more wide open in the end zone. Yates hit him with a nine-yard touchdown strike, and the Heels took a 10-3 lead with 9:28 left. Jason McCourty appeared to be giving an earful to teammate Courtney Greene after the play. 
Update, 8:57: Rutgers capped a 12-play scoring drive with a 32-yard Te field goal, making it 10-6 with just over five minutes left in the first half. Te is 2-for-2 today after going 0-for-2 in the opener. 
Update, 9:10: After T.J. Yates and Brandon Tate hooked up for a 69-yard touchdown to put the Heels up 17-6, Mike Teel threw his second interception of the game, his fourth of the year and his 40th of his career, turning the ball back over to the Teels for one final drive in the first half. 
Update, 9:12: North Carolina leads 17-6 at the half. The Knights need to get the passing game back on track and absolutely, positively can't afford any more secondary breakdowns in the second half if they want to come back and win this thing. 
Update, 9:50: If Rutgers is going to come back, the Knights will need a memorable surge to do it. Brandon Tate scored on an end-around to make it 24-6 Heels, and the Knights have the ball on their own 40 with 11:40 left in the third quarter. 
Update, 10:06: Midnight madness is in less than a month, and maybe it was fitting that Rutgers men's basketball coach Fred Hill walked through the press box just before North Carolina scored yet another touchdown to take a 38-6 lead. After all, the young, talented men's basektball team may be easier for Knights fans to watch than this football team, which is being thoroughly embarrassed on national TV. The Heels' drive: seven plays, 68 yards, 3:07, with an 11-yard touchdown pass from T.J. Yates to Hakeem Nicks.