News, insights and analysis on the Rutgers football program
Monday, November 24, 2008
Today's story
Today's story on Rutgers'
hit king
, Zaire Kitchen.
Sunday, November 23, 2008
Back from the dead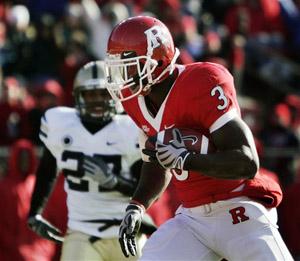 That phrase describes the Rutgers football team and this blog, which is springing back to action to give you some content that was left out of The Trentonian's web edition.
Here's a
link
to the gamer in today's paper.
And here's the Rutgers replay, which didn't make it online.
WHAT WENT RIGHT:
The passing game couldn't have been much smoother. Mike Teel completed 22 of 33 passes for 359 yards and a touchdown, setting school career records for passing yards (8,617) and total offense (8,405) in the process. … Kenny Britt continued what is likely an All-America season with 10 catches for 197 yards. … Tim Brown scored a 19-yard touchdown on an end-around in the third quarter for his first career rushing touchdown. … Hightstown's Zaire Kitchen forced his third fumble of the season and Joe Lefeged returned it 58 yards for his first career touchdown on Army's fourth play from scrimmage. … The Scarlet Knights outgained the Black Knights 521-219 in total offense. … Rutgers had 25 first downs, Army 11. … Army had two passing yards. … San San Te made field goals of 27, 32 and 39 yards despite howling wind coming from both ends of the stadium. … Pete Tverdov had a tackle for loss for the 13th straight game. … Rutgers averaged 8.1 yards per play and held Army to 4.3. … Rutgers didn't commit a turnover. … Kordell Young had a career-long 26-yard run in the third quarter. … A season-high-tying eight receivers caught at least one pass.
WHAT WENT WRONG:
Teel was sacked in the first quarter and fumbled, but Rutgers lucked out when officials ruled – incorrectly, replays showed – that Teel was down before he let go of the ball. … Graves and Jack Corcoran both dropped passes when they were wide open. … Te missed a 40-yard field goal in the first quarter. … Army rushed for two first downs on its second possession to get into field goal range. … No Rutgers back had more than 53 rushing yards. … The game-time temperature was 32 degrees, with a 22 mile-per-hour wind, causing difficult kicking and punting conditions and forcing some fans to leave before the end of the third quarter.
PLAY OF THE GAME:
The defensive touchdown the Scarlet Knights scored on Army's fourth play from scrimmage set the tone.
PLAYER OF THE GAME:
Britt was unstoppable. It's gone unnoticed by many because of Rutgers' mediocre record, but the junior from Bayone might be playing his way into the first round of the NFL draft.
NOT IN THE BOX SCORE:
Representatives from the Meineke Car Care Bowl and Texas Bowl were at the game scouting Rutgers.
UP NEXT:
Dec. 4 at Louisville, 7:30, ESPN