Holiday Spirit in the Newsroom!
This holiday season, my colleague Danielle Lynch and I are in the midst of a desk decorating war.
I'm winning.
Yesterday, Danielle was out sick. I sent her this get well message:
You are, I imagine, sick with envy at my Christmas decorating prowess?

Yours Truly,

Daniel J. Kristie
Danielle replied:
Yes, that is precisely right.


Yours Truly,


Danielle "Grinch"
Ha! Danielle Grinch!
Here's a picture of me at my desk: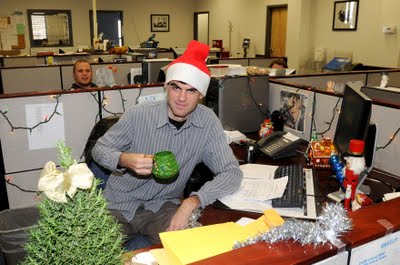 Labels: Holiday Spirit