The results are in... and so is Jones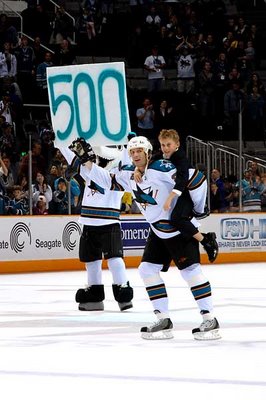 I want to thank each and every one of the 232 people who e-mailed me votes for the Masterton Award.
It was far more votes than I anticipated receiving, which means my idea was a success.
Anyway, what I neglected to inform you, is that I get to vote for a first place winner, a second place winner and a third lace winner. First earns five points, second gets three and third gets one.
After all the votes are tallied, the guy with the most points as opposed to first place votes receives the award.
Here in Philly, the Delco Times vote will go as follows:
1. Jeremy Roenick
2. Jim Dowd
3. Glen Metropolit
I anticipated there would be a little local flavor in the voting, and there was. Former Flyer Luke Richardson finished fourth, current Flyer Jaroslav Modry was sixth and one-time Flyers prospect Johan Hedberg did get on the board with two votes, finishing in a tie for 12th.
However, all three of our vote-getters are deserving of the Delco Times vote, and I'll proudly pass it on to the National chapter.
As for the Flyers of today.... they are getting ready for one of the biggest regular season games in franchise history. It's not often that regular season games have so much riding on them for the Flyers, who are usually comfortably positioned in the playoff race, but a win tonight and we could be talking about catching Ottawa for the fourth seed. A loss, and the team will feel Washington breathing down their necks.
The lineup is mostly the same as it's been the last four games with one change - Randy Jones is back in the lineup on defense after missing five games with a hip flexor strain. He will replace rookie Ryan Parent in the lineup, meaning Lasse Kukkonen is, for now, back among the top 6 on the team.
But, keep these two thoughts in the back of your mind if the Flyers do, in fact, reach the playoffs.
Derian Hatcher could be back by the middle of the first round, and don't be surprised to see Denis Gauthier recalled for a playoff run.
Gauthier will not be recalled before season's end because the Flyers fear he would be claimed by another team on re-entry waivers.
But, once the regular season ends, Gauthier can be recalled without going through the waiver process.
I would venture to guess Kukkonen would sit if one of them came back and if both come up, it would be between Jones and Jaroslav Modry for the other scratch.