DANNY BOOOOOOOOOOOOOO-Y
He grew up in Quebec cheering for the Canadiens.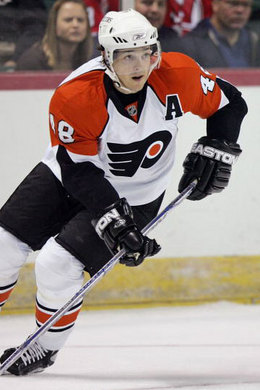 But now, Danny Briere will be jeered relentlessly by like-minded Montreal fans.
It happens often in sports, where there is a hatred felt by a fan base toward a particular player. In Montreal, they've had their fair share.
But right now, none inspires the ire that Briere brings. And it's a safe bet he will hear the boos unmercifully during the next couple weeks as the Flyers and Habs square of in the Eastern Conference Semifinals.
Why the hatred?
Well, it's because there is a feeling, and an elitist one at that, that Briere jilted Montreal in favor of playing in Philadelphia when he was a free agent last summer.
After it was evident that Briere was not going to re-sign with Buffalo, he publicly narrowed his choices to three teams - The Flyers, Canadiens and New York Rangers.
The Rangers instead chose to woo both Briere's Buffalo teammate Chris Drury and the Devils' Scott Gomez. Leaving Briere a choice to play for his childhood favorite, or the team most despised by all Canadian-born hockey fans for putting a black mark on their sport - the Flyers.
Briere picked the Flyers for several reasons. First and foremost, he liked the direction they were headed after the worst season in franchise history a season ago.
Secondly, he was friendly with goalie Marty Biron and winger Simon Gagne.
Third, he had a great relationship with Don Luce, who was hired by the Flyers as a pro personnel director after he was canned by Buffalo in a cost-cutting (read: penny-pinching) matter.
When Pat Brisson, Briere's agent informed the Habs they had lost out, Montreal G.M. Bob Gainey made one more pitch and offered Briere more money than the $52 million over eight years the Flyers were shelling out.
Briere didn't bite. And in an incredibly classy move, nor did he use it to try and run up the Flyers bid for his services.
But those who watch the games through the bleu, blanc et rouge tinted glasses felt he would spurn them.
How dare he turn down the epicenter of the hockey universe for the grimy, disgusting town of Philadelphia.
It got so bad that a Montreal radio station prank-called Briere pretending to be Habs president Pierre Boivin demanding an explanation for his decision.
And one off-base story in a Montreal newspaper suggested Briere turned down the Canadiens because he wasn't guaranteed a spot on the top line.
If you know Danny Briere, you know it's not about ego for him. But that's the picture that was painted in Montreal.
And now, the disgruntled fans are going to treat him like dirt.
For Briere, he needs to avoid it. He needs to ignore the hooliganistic approach to hockey of the Canadiens fans and continue to play his best hockey of the season, as he has for the past two months.
There's no doubt the Canadiens are going to focus on shutting him down, as evidenced by Montreal coach Guy Carbonneau's assertion:
"Every time we face a team, we focus on their best player," he said. "Daniel won't be any different, and we'll also focus on (Kimmo) Timonen."
As long as Briere focuses on putting the puck in the net, he and the Flyers will be just fine.