Bernie D'Ascendis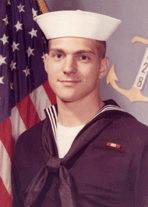 Bernie D'Ascendis was a steward for the
U.S. Navy. He is pictured here in 1971.
Bristol Borough native had a dream of becoming a clown,

but he took on a much more serious role with the
U.S.
Navy in 1971 — protecting American tanks in Iceland.
By Tim Chicirda
BucksLocalNews.com Editor
Bernie D'Ascendis' acts of service did not end after he was discharged from Iceland in 1972. A former United States Naval Steward, D'Ascendis now is heavily involved in politics and entertainment.
Born in Bristol Borough, D'Ascendis always had a dream of being a clown to bring a smile to the faces of young children, but in 1971, Bernie took on a much serious role in the United States military.
D'Ascendis was stationed in Iceland during the end of the Vietnam War. According to D'Ascendis, the duty of the U.S. Navy in Iceland at the time was to protect American tanks around the border of the Soviet Union.
D'Ascendis recalls how horrible Iceland was at times. Described as "very dormid," Bernie and his crew enjoyed six months of light and six months of darkness. During the light months, D'Ascendis remembers 23-hour baseball sessions.
Often encountering volcanic rock and blistering, high winds, D'Ascendis does not have the fondest memories of Iceland.
"Iceland wasn't a fun place to be," he said. "I remember cockroaches crawling across our backs."
Iceland had been occupied by United States military forces from 1941 until 2006. A NATO ally nation, Iceland was protected by America from Nazi Germany at first. It was later protected by D'Ascendis and company from the Soviet Union. In recent years, it has been protected from things like terrorism, international crime, and drug trafficking, according to the Defense Department.
America still protects Iceland, although they are not stationed there.
Bernie would take care of many of the incoming and outgoing naval officers and cooking was one his specific duties.
"I always got a lot of enjoyment out of cooking," said D'Ascendis.
Though cooking may not be scene as such a dangerous duty, D'Ascendis gave his gave much of his body and health for our country.
D'Ascendis developed Ulcerative colitis, a form of inflammatory bowel disease. The acquisition of the disease was later determined to have been service-related. Ulcerative colitis symptoms usually include ulcers, or open sores, in the colon.
A doctor suggested that D'Ascendis get a colostomy bag, but he refused, claiming that he wanted to go out and try to work, and that is just what he did.
Remaining with the federal government, D'Ascendis worked 13 years with the United States Post Office in Philadelphia.
Now living in Bensalem, D'Ascendis performs another valuable service, as he is now known as "Bernie the Balloon Man."
Continuing his dream of being a clown, D'Ascendis donates much of his time to kids. Married 15 years to wife Allison, but with no kids of his own, Bernie loves to go out and put a smile on the faces of youngsters.
D'Ascendis performs at parties, parades and events. In fact, Bernie the Balloon Man will offer his service free of charge to VFW or other Veteran-related events.
Now a very lucrative side job, balloon sculpting was taught to D'Ascendis from Spiffy's Clown School, although Bernie does not enjoy the make-up of the traditional clown.
Bernie's father-in-law, George Davenport, the President of the Falls Township Lions Clubs, often will give Bernie ample opportunity to give back to his community.
Bernie is also very involved with politics nowadays. A very loud supporter of Congressman Patrick Murphy, D'Ascendis is a part of the representative's campaign team, creating red, white and blue balloons for many occasions.
"I will do anything to get [Patrick Murphy] votes," said D'Ascendis.
And, over the course of his life, this has been the case for Bernie D'Ascendis: doing anything for the greater good.
D'Ascendis gave his body and health for our country in Iceland. Bernie has been active in politics, pushing for what he believes will help our country. Bernard has dedicated 13 years as a postal employee. And, Bernie the Balloon Man has given time and energy to putting a smile on the faces of the youth of this nation.
Participating in many walks of life, Bernard D'Ascendis should be saluted for all that he has done.