"I will name my son Batman if this page gets to 500,000"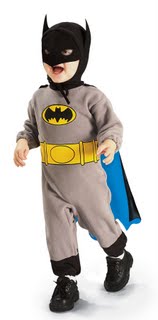 Bands and celebrities often promise tidbits of info for scoring a set amount of Twitter followers or Facebook friends, but I just stumbled across my favorite social networking experiment yet...
I will name my son Batman if this page gets to 500,000
.
Holy caped kid crusader! If this group gets more than 500,000 fans on Facebook, the guy will name his son Batman, which will either be really incredibly awesome in grade school or really awfully bad in high school. Or both. Apparently the guy's wife is completely on board with this too. I don't know who these people are, but what an amazing social experiment.
Seriously
.
He's currently at about 130,000, so the future Batman needs your help! Become a fan and become part of history. Take back Gotham!
The best part? This dad to be is dead serious.
Just think of the one liners that will be obnoxiously over-used in this future kid's life:
"Where does he get those wonderful toys?"
"Have you ever danced with the devil in the pale moon light?"
and of course...
"I'm Batman!"