Basketball season wrap-up
Well, basketball fans, the season is finally behind us. In addition to congratulating the Chester Clippers on their Class AAAA state title, I just have a few announcements to make: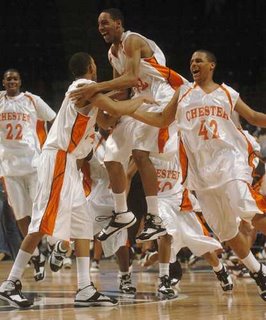 All-Delco News.
It's almost time to reveal my All-Delco teams, which were finalized following Saturday's game. Keep close to the
Daily Times
for updates on when the teams will appear in the newspaper.
PIAA Rule Change No. 1. The PIAA has approved two notable amendments which take effect next season. First, District One receives an additional seed in the PIAA Class AAAA state tournament, increasing its tally from eight teams to nine. What does this mean? Well, the eight teams to make the quarterfinals are still guaranteed a berth in the state bracket, with one more team finding its way in. How? That's to be determined.


PIAA Rule Change No. 2. The PIAA made official a transfer rule, which forces a student-athlete between 10th and 12th grades to sit out half a season should he switch schools.

Staying at State College. Though unofficial, the PIAA and Penn State have agreed to extend a contract to keep the state-title games at Bryce Jordan. More to come as it becomes known.

It's baseball season! Just because the hoops season is over doesn't mean you can't visit Gettin' Schooled for the next few months. It's a high school sports blog and as such, I'll be posting my daily musings from my next high school beat - baseball. And there definitely will be basketball news to check back for, as always. So I look forward to your continued readership.
Labels: All-Delco Team, Bryce Jordan Center, Chester, PIAA Class AAAA playoffs