TYREE JOHNSON: '09 DAILY TIMES PLAYER OF THE YEAR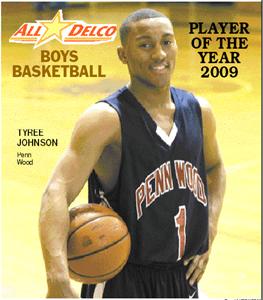 The
All-Delco boys basketball team
was unveiled in Wednesday's
Daily Times
. And based on the graphic at right - and the headline above - you should already know that Penn Wood junior point guard
Tyree Johnson
is the
2009 Player of the Year
.
Johnson led the Patriots to their first PIAA Class AAAA championship and a Del Val League championship. Along the way, he became the county's best point guard and demonstrated the uncanny ability to make everyone around him play better, resulting in the school's first championship of any kind since 1992.
Four Patriots averaged in double figures this season - including Johnson - and two of them improved their scoring tallies significantly in the state playoffs. All thanks to Johnson's play, thus earning him the honor of Daily Times Player of the Year.
Here's the rest of
the All-Delco team
:
D.J. Irving, Jr. PG, Archbishop Carroll (pictured)
Calvin Newell, Sr. SG, Strath Haven
Aaric Murray, Sr. C, Glen Mills
Duane Johnson, Sr. F, Penn Wood
Rahlir Jefferson, Sr. F, Chester
*Murray and Johnson are repeat All-Delco selections.
# # # #
It's been a while since I last posted - following state-championship lag from State College - here's a quick-hitting recap of what you might have missed:
Former Chester coach Fred Pickett has thrown his hat into the political ring. He will launch a campaign for a city council spot.
Penn Wood coach Clyde Jones was named the PIAA Class AAAA Coach of the Year. Seven Delco players earned state honors, too.
Three-time All-Delco Tyreke Evans told FoxSports.com that he plans to leave Memphis to declare himself eligible for the NBA Draft.
Labels: Aaric Murray, All-Delco Team, Calvin Newell, Clyde Jones, D.J. Irving, Duane Johnson, Fred Pickett, Rahlir Jefferson, Tyree Johnson, Tyreke Evans