Baseball, track ... and I'm back
Sorry for the recent lack of blogging, folks. Life's been busy, but that's nothing new.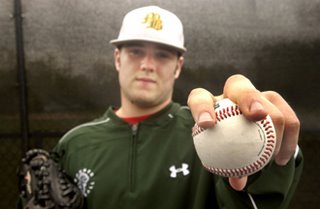 Here's what's up in Delaware County:
Unless you've been living in a cave the last two months, you know
Conor Kerins
is the talk of the town. The Monsignor Bonner left-hander has been
on fire
. He's posted a 6-0 record overall and a 5-0 mark against Catholic League opponents.
On top of that, he's averaging two strikeouts an inning and has stifled opponents with an ERA slightly above 1.oo. If he keeps up this pace, there's a good chance he could lead the Friars to their first Catholic League title since 1989. I've covered the CL playoffs before and a few years back, Conwell Egan won on the strength of one strong arm. But the Friars have three. They might be tough to take down.
Elsewhere in baseball:
Two unlikely heroes - J.J. Sims and D.J. DiPaola - led Haverford past Ridley Tuesday.
Dave Hallinan is single-handedly keeping Interboro in the Del Val League race.
Nearly a month after it began, a darkness-shortened game between Haverford and Penncrest will finally conclude Thursday.


A WEEKEND AT THE PENN RELAYS
For the baseball fans out there, please understand that we at the Delco Times are giving some love to track, too.

And the Penn Relays are always a good time.

In case you missed it last weekend, a couple individuals and teams from Delaware County had a good go of it at Franklin Field at the University of Pennsylvania.

Penncrest pole vaulter Jerry Thompson, pictured, had trouble clearing 14 feet, 9 inches and placed eighth in the championship flight. And Chester's Martin Soloman came in 18th in the 400m hurdles final.

For a pair of Cardinal O'Hara jumpers, Steve Werner drew the short straw and Jason Johnson came up an inch short. Werner's long jump scores were miscalculated and he missed out on the championship flight. Meanwhile, his teammate, Johnson, in the triple jump, was an inch off of qualifying for the title run.

Delco had a winner, though: Chester's girls 4x400 relay team topped the field in the Philadelphia Area final, outrunning eight other teams in the process. Kudos to the foursome.

I made a promise earlier this year, a vow to blog more frequently. I will make good on that, starting ... ... now!
Labels: Catholic League playoffs, Conor Kerins, Dave Hallinan, Jason Johnson, Jerry Thompson, Martin Soloman, Monsignor Bonner, Penn Relays, Steve Werner