IT'S BASKETBALL SEASON
The basketballs have been bouncing for two weeks now, since winter sports teams opened their practice schedule Nov. 17.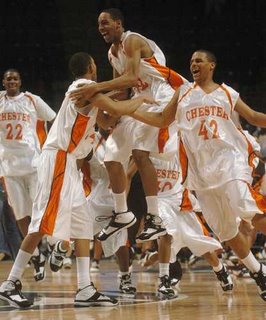 It's basketball season.
Most teams will christen their campaigns Friday, on opening night. That's also when the
Daily Times
' boys basketball preview will hit newsstands.
In the meantime, here's what you should know about the 2008-09 season:
***Chester, which lost all but one player (F
Rahlir Jefferson
) from their PIAA Class AAAA state-championship starting five, have a long way to go to get back. But you can never count out the Clippers (pictured).
***Penn Wood, which lost four meetings with Chester, looks to be the heir apparent to the Del Val League championship. The Patriots return their entire lineup - including All-Delco F
Duane Johnson
, So. PG
Tyree
Johnson
, So. C
Shawn Oakman
and Sr. F
Thomas White
. They also have Roman Catholic transfer
Aaron Brown
, a 6-6 sophomore. Look out, District One.
***Ridley, co-Central League champion, is one of many teams vying for the title in a wide-open race. Conestoga and Lower Merion, the other co-champ, are early favorites. Penncrest, which doesn't have much of a hoops legacy, will surprise folks.
There's more to come on Friday. Stay tuned.
Labels: Aaron Brown, Basketball Previews, Duane Johnson, Opening Night, Rahlir Jefferson, Ridley, Shawn Oakman, Thomas White, Tyree Johnson