PENN WOOD, CARROLL EACH CLAIM STATE TITLES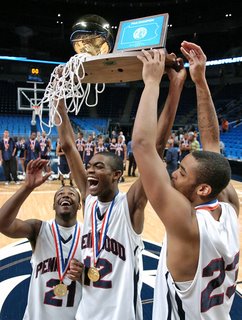 The basketball season is over, but not before three Delaware County teams brought home state championships.
Penn Wood
, picked as favorites at season's outset, stepped up to that high praise and claimed the Class AAAA crown by topping William Penn-York, 72-53, at Penn State's
Bryce Jordan Center
Saturday.
Senior All-Delco
Duane Johnson
and sophomore
Aaron
Brown
chipped in with 20 points apiece,
Tyree Johnson
had 14 and
Will Brown
added 12 for the Patriots, who wrapped up their first state-title season with a 28-4 record.
The
Archbishop Carroll
boys did it Friday, then the girls followed suit by beating Lampeter-Strasburg for the Class AAA championship.
Erin Shields
and
Hollie Mershon
each put in 13 points for the Patriots, who finished their season 30-1 with the 68-45 rout of the Pioneers.
Kerri Shields
tallied 12 in the last game of her fantastic Carroll career.
That's all there is to report from Happy Valley. Make sure to read it all in the
Sunday Times
and thanks for your readership through basketball season, both at
Gettin' Schooled
and
Live at the PIAA Championships
.
The spring sports season is here, but I need a blogging breather. I'll take a few days off from the blogosphere but keep reading the
Daily Times
until I get back.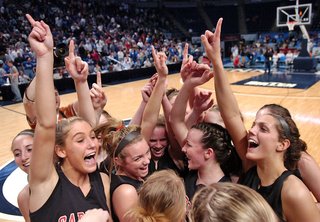 Labels: Aaron Brown, Archbishop Carroll, Duane Johnson, Kerri Shields, Penn Wood, PIAA Class AAA basketball playoffs, PIAA Class AAAA basketball playoffs, Tyree Johnson, Will Brown