Tom Zogorski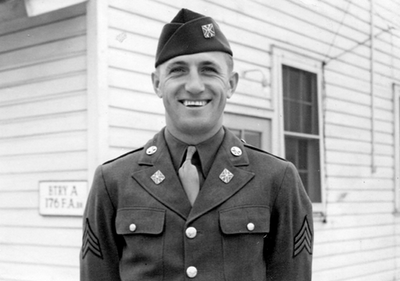 Tom Zogorski (above) trained some of America's elite flyers while
serving at Childress Air Force Base in Childress, Tex. Zogorski
(below) looks over some photos from his time in the service.
(Photo by Peter

Ciferri)



Bucks County resident found that training bombardiers

during World War II could be a dangerous task.
By Peter Ciferri
BucksLocalNews.com Editor
A cross-wind sweeps across a shortened runway, an inexperienced student pilot overcorrects for takeoff and you suddenly find yourself co-pilot of a small plane spinning 360-degrees, landing gear and one wing collapsing against the ground.
Moments like this were among the challenges 1st Lt. Tom Zogorski of Newtown faced while serving as an instructor at Childress Air Force Base in Childress, Tex. during World War II.
The pilot in this story was a young member of the Women's Auxiliary Corps, and as one of the more experienced instructors at the base, Zogorski was assigned to train the flight's bombardier. But neither he nor the pilot ever expected the wild ride.
"That's about the most excitement I think I ever had," Zogorski said. "The plane went down on one wing and it spun around in circles."
Tom Zogorski, his cousin Stanley and John Marker of Dolington, were the first Newtown residents drafted into World War II, receiving the call on April 1, 1941. Tom was sent to Ft. Meade, Md., where he would go through basic training and field artillery training, but it wasn't until his graduation in May of 1943 that Zogorski would truly find his role in the war effort.
Zogorski says he had never piloted an aircraft and had only been a passenger in a few light airplanes when the Army Air Corps selected him for bombardier training, but after six months of target practice, it was clear the Newtown native was among the best in his class.
Flying at anywhere from 4,000 to 13,000 feet in a Beechcraft AT-11, Zogorski came within about 90 feet of his targets, compiling a "circular air" average of over 30 feet better than the class average. Not bad, especially considering a Beechcraft can reach a maximum speed of 225 m.p.h.
"It takes practice to become proficient. It's very sensitive adjustments that you have to make," Zogorski said of the knobs used to align the plane and synchronize speeds for an accurate drop. "What you're doing is making your plane fly on a course that will take you over your target."
As a student, Tom was training partners with Walter Yerkes Jr., a 17-year-old from Southampton, who Zogorski didn't know before training. He soon discovered they lived minutes apart their entire lives.
"It was nice to know somebody from the same area," Zogorski remembered.
As a flight commander training America's elite for combat, Tom looked back on a man from his training, Charles Eikner, whom he called "a top-notch instructor." Zogorski said he still stays in contact with Eikner, who lives in Texas, and was happy to teach his students everything Eikner had taught him.
"He just had a knack for teaching," he said. "I certainly passed on everything he told me that I thought was worth passing along."
Zogorski says dropping the 5-foot-long bombs filled with sand and black powder was "like a job" for most of his students, but added that it wasn't a job everyone in the Air Corps could handle.
"A lot of them just couldn't do it," Zogorski said. "You just had to tell them, 'You're at the end, we just can't have you anymore.'" He says those soldiers would be reassigned to ground duties like maintaining the base and its planes.
The role of flight commander meant Zogorski was responsible for approving bombardier students before their graduation, and he says the most important thing he looked for was a soldier who could maintain a level head, executing procedure without getting too nervous. And sometimes those decisions weren't cut and dry.
"I had one student, a real good student, but every time he went up in the air he would get airsick," Zogorski recalled. "He had a big sheep jacket on and he would puke inside his jacket … You can't hide that."
Zogorski says he knew the student was an excellent bombardier, so provisions had to be made to ensure his graduation. "I told him, 'Take a bag with you, puke in the bag and throw it out the window and everything will be fine.' He did that every damn time and I passed him."
Mishaps in training didn't always have a slapstick ending, however. Zogorski was somber as he remembered four men who died when their plane clipped another during training exercises, and while he did not oversee those students, the bond of brotherhood was clear in his voice.
But through it all, Zogorski says he was always comfortable in the bombardier's front row seat, a glass enclosure that looks directly out the nose of the plane. "You had a good bird's eye view; you were the first one there," he joked, adding, "It was just a routine thing: You got in the airplane and you took off."
Labels: Army, Newtown, World War II