Gimmie all your money or I'll... well, I'll do something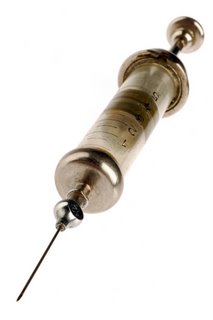 LENOIR CITY, Tenn. - A man accused of brandishing a medical syringe to rob a convenience store on Thursday morning later crashed his car into a house while trying to escape, police said.
A man walked into a store shortly before 4 a.m. and flashed a medical syringe, which he claimed was contaminated "with AIDS or something like that," Lt. David Flynn said.
The clerk handed over $80 in cash and the robber fled.
Flynn had worked a very similar robbery two weeks ago and had a description of that getaway car. When he saw one answering the description, he tried to stop it and the driver sped away.
After about two miles, the driver lost control and the car smashed into a house, buckling a wall. No one inside the home was injured.