Alleged shooter in critical condition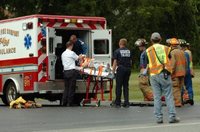 The man accused of killing his 54-year-old daughter and then shooting himself is still in critical condition, police said Friday.
Donald Lutz, 89, allegedly shot his daughter in the head at their East Goshen home. When police arrived he reportedly shot himself in the head. Lutz was flown to a hospital in Upland where he remains, police said. If Lutz recovers, charges will be filed, police said.
See the DLN for more details.