Central League champions named
Every
Central League track and field
athlete got his or her last tune-up Wednesday in the league's championship meet.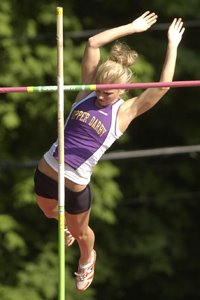 The last tune-up, that is, before the District One Class AA and AAA meets, which begin next weekend. It also marked one final opportunity for those who had not yet qualified for districts to meet the standards in their events and move on.
For more on the boys side or
the girls side
, be sure to check it out here or in the print edition of Thursday's
Daily Times
.
Also, staff photographer
Bob Gurecki
assembled a video show from Wednesday's meet, which was held at Lower Merion.
Check it out.
ON THE DIAMOND
The baseball season is still in full bloom, so be sure to read the latest in this week's installment of the baseball notebook.
Featured are the
Marple Newtown
Tigers. Behind second baseman
John Rutecki
and pitcher
Steve DeCecco
, the
Tigers are back to their old tricks
and competing for a spot in the district playoffs. Last season, they snuck up on everybody and made it all the way to the state final. Is that a possibility again? The players think so.
In the notebook
:
Academy Park coach
Nick Russo
is happy to have back pitcher
Tom Rhoads
, who left for a bit to further his swimming skills. ...
Monsignor Bonner
will host its first-ever homecoming game this Saturday. ... Delco Christian coach
Jeff Wisnewski
has been wary of using his best player -
Mike Connelly
- because of the shortstop's broken finger. But Connelly leads the team in almost every category. ... And much more.
For all the latest, pick up a copy of the
Daily Times
.
Labels: Bob Gurecki, Central League track, Jeff Wisnewski, John Rutecki, Mike Connelly, Nick Russo, Notebook, Steve DeCecco, Tom Rhoads