SUMMER IS UPON US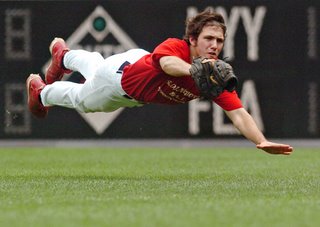 Summer - when the school days are as infrequent as blog posts.
My apologies for not blogging as regularly during the spring season. I think the heat got to me. And the rain. And the exceptional (but exhausting) road to State College during the basketball season.
In either case, please bookmark
Gettin' Schooled
and check back throughout the summer. While there is not nearly as much going on in the high school sports scene, there will be exceptions to those rules. Like the
Carpenter Cup Classic
.
Pictured above,
Nick Mascioli
of Delco Christian, made several diving, run-saving grabs in the Phillies-sponsored all-star tournament. He made one of them Wednesday, when his SOL National/Bicentennial team lost the championship game to Burlington County, 2-1. Staff writer
John Kopp
gave us
an item following the title game
.
So don't be a stranger (even if your estranged blogger has been) at
Gettin' Schooled
.
Labels: Carpenter Cup, Citizens Bank Park, John Kopp, Nick Mascioli