2009 FOOTBALL PREVIEW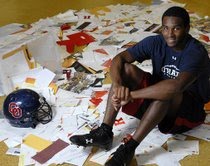 It's here. Almost.
The high school football season is less than three days away, with almost every team in Delaware County kicking off Friday. (The others get into the action Saturday.) And the Daily Times is on top of everything.
Here's what you'll find in this year's High School Football Pullout section:
Team-by-team breakdowns.
Informative preview capsules.
Schedules, both weekly and by team.
The latest on Cardinal O'Hara's Corey Brown (above), the two-way back who is getting more than his share of mail lately from prospective colleges.
And more...
The Daily Times' 2009 preview section hits newsstands Thursday.
Labels: Cardinal O'Hara, Corey Brown, football preview