Steven Christiano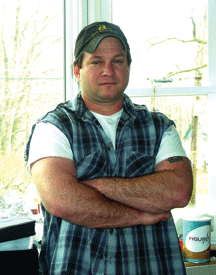 Upper Black Eddy resident Steven Christiano (above)
served with the U.S. Marine Corps in Central America,
Africa and the Persian Gulf. Christiano (below) at age 17.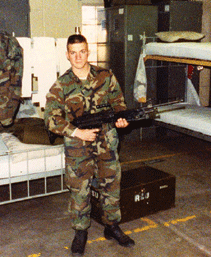 Keeping the Wolf at Bay: The life of a 'lifer' Marine
By Daniel Brooks
BucksLocalNews.com Editor
"There is no life other than service to your country," many have often heard Steven Christiano, a resident of Upper Black Eddy, quickly quip to any and all within earshot. He often follows this statement by flashing an impish grin.
"There are those that are weak and then there are the Marines," said part teasing, part instigating, part boasting. Another frequent mantra of Christiano is: "Are you prepared to keep the wolf at bay? If not, don't blame those who do!" Christiano, though no longer in the United States Marines, like many that have served there, will never stop being a Marine.
Born into a "military family," the first of five children with a 6-foot-6 ex-Marine father, Christiano is one of five generations of family who have dutifully served their country. He grew up in the '70s and '80s in New Providence — a very green, small town in the mountains of central Jersey — and his dad taught him to appreciate all of the resources available there: hunting, fishing and boating among them. He was taught to construct and encouraged in life survival skills. In a family of taller siblings, at 5-foot-8 Steve was, as he says, "the runt of the litter."
"My Dad was a big man. He and I were a lot alike," says Christiano. "I was the 'econo' version of him." Always interested in strength, he became an avid recreation seeker, gym body-builder and spent most of his youth mastering martial arts. Despite all of his dedication to self-discipline, he gained a reputation for being the neighborhood hell-raiser.
Though mischievous and outspoken in school, his heroes were tough teachers and ex-Marines. "They taught me three principles: be smart, be respectful and know yourself," says Christiano. "I said to myself, 'I want to be like them'. I was drawn to people who have something that separates them from others." He was an academically quick kid — a voracious reader of books — and had no problem skipping through to graduation from New Providence High School. Almost immediately after, he enlisted in the U.S. Marine Corps.
He describes his 10 weeks of boot camp on Parris Island, S.C, as "graduating into life." After several months in the infantry at base in Quantico, Va., Christiano was selected for "Fast Company School," a security detail training session in Norfolk, Va., where he was picked for "the Fleet," a group whose mission was basically national security. He spent his first duty abroad in various locales, dutifully trouble-shooting in Central America. While he can't discuss his assignments, these were the days of Noriega and drug trafficking. "My job was basically cleaning up messes," he jokes. All the while Chistiano was working intelligence, he continued to upgrade his combatant skills — necessary for what was to be his next tours, in the jungles and deserts of Africa.
In Africa, Christiano and his group cross-trained with international defenders such as the British Royal Marines and the French Foreign Legion, together integral parts to the massive military infrastructure which defends U.S. concerns abroad. His subsection acted as scouts and he was sent wherever there was suspicion of "trouble" until called into active permanent detail in the Persian Gulf — it was 1992 and it was all about Desert Storm. Acting as "scout sniper," Christiano was sent ahead of the larger groups to learn key enemy strengths and weaknesses.
"Wherever there was trouble, whatever they needed to 'see up-front,' that's where we got sent," says Christiano. "We were professional fighters — we went where we were told."
For all years which the hunt for Hassan Hussein raged, Christiano and his friends were in the dangerous thick of it.
"As a sniper my job was to save other Marines," he says. "Each day you didn't know what that would mean for you."
Christiano still holds true his vows of mission secrecy. While he loves to tell stories of his buddies and their antics during off-duty adventures, asking for mission details will send the generally gregarious, chatty, fun-loving Christiano to silence. One can sense that asking those questions not only invades his privacy and conflict with his military ethics but that, in addition, they are just too difficult for him to think about.
After eight years and numerous injuries, the U.S. Marines wanted Christiano on safer ground. He did not, desiring to stay in combat. The conflict led to his honorable discharge as a staff sergeant at the end of his final tour in 1995. He remained in the Marine Reserves until 2002.
During those five years he struggled with his adjustment to civilian life, started a construction business, married and moved up river from New Hope. In the past years he and wife, Lara, have had two children: Maximilian, 4, and Corbin, 2, and he hopes the kids will continue his values. Despite his success in rebuilding a life, Christiano has not had an easy time leaving the military and he is often restless.
Looking through his old pictures Christiano came across a picture of his reconnaissance group, about 15 Marines, clowning at a stateside wedding, a bunch of comrades who fought the "bad guys" and defended their country together.
"Each would go the 'extra mile' for the other, often endangering their own lives in doing so," adds Christiano. "That is what Marines do — they look out for each other."
These 15 men have seen life sights in a few years that most will not see in a lifetime.
Christiano said that 13 of those men are now dead. He mourns their loss and also the absence in his life of the bonds the Marine environment provided them. "Being a Marine is the best thing. If you can make it in the Marine Corps you can make it anywhere. People wise, it is the best of the best." he still states proudly. "You have a group that genuinely believes in the work they are doing, what they are defending, and whatever the local conscious is they are not swayed by it. They are there to do a job. In the Marine Corps, for those who make it, everyone learns to best do their job. People don't join the Marine Corps because the Marines are different than other branches of service; they join because they are different than other people."
Christiano has spent years of his civilian life trying to employ his Marine ethics with others in need. As a professional contractor, he is constantly helping people of the area, voluntarily, with their home disaster problems, will be the first one to stop for an accident and the last one to leave a job done if he feels he is being treated with respect and fairness.
Often he speaks of his concern for the future. "America is a great country but if we don't quickly come together as a one-world community we are going to run into some really bad problems down the road," Christiano says.
He added, "We are running out of resources and we owe it to the next generation to put it together." As for himself and his integration into civilian life, he says, "I still try to live my life in the tradition of the Marine Corps, whether that means duty to my country, my family or my neighbors."
***

While writing this "salute" story and searching for a summation I stumbled on a statue of Kemble Warren, a major general in the Civil War and New York governor. My eye was caught by a small inscription at the end of Warren's military career biography, carved on a tarnished brass plaque. It reads: "Everything to him was subordinated by duty." I stood there for awhile thinking that for my friend Steven Christiano and for many veterans past and present, in every aspect of their lives, they are compelled by fighting "the good fight." Duty is their real story, from beginning to end.. — D.B.