And the Children Shall Lead Them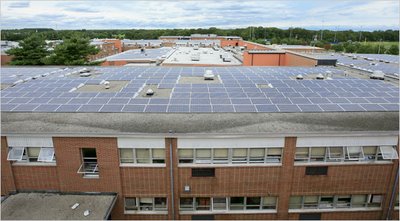 Above, a New York Times photo of solar panels on the roof of Scarsdale, N.Y. High School.

As anyone with children knows, few things are harder to oppose than the determined advocacy of a child.

Often enough, it is in service of a toy or snack purchase that they advocate, something toy manufacturers and their advertising firms have known and traded upon for years.

But sometimes, it is for a cause even us grown ups can support.

"Children are part of what experts say is a growing army of "eco-kids" — steeped in environmentalism at school, in houses of worship, through scouting and even via popular culture — who try to hold their parents accountable at home. Amid their pride in their children's zeal for all things green, the grown-ups sometimes end up feeling like scofflaws under the watchful eye of the pint-size eco-police, whose demands grow ever greater, and more expensive.
"They pore over garbage bins in search of errant recyclables. They lobby for solar panels. And, in a generational about-face, they turn off the lights after their parents leave empty rooms.
"'Kids have really turned into the little conscience sitting in the back seat,' said Julia Bovey, a spokeswoman for the
Natural Resources Defense Council
, a leading environmental group that recently worked with Nickelodeon on a series of public service announcements and other programming called 'Big Green Help.'
"'One of the fascinating things about children is that they don't separate what you are doing from what you should be doing," Ms. Bovey said. "Here's this information about how we can help the environment, and kids are not able to rationalize it away the way that adults do.'"
The elements include reduced waste and buying local organic food for the dining hall, increased recycling in the dorms and water conservation throughout the campus.

The school will compete in the 2009 Green Cup Challenge. The independent school that conserves the most electricity will take home the Green Cup Challenge Trophy. The competition will last four weeks and 32 schools will compete, according to the school's Web site.

Now, Pottstown's public schools have an opportunity to set an example as well.

Having decided on the renovation and expansion of four elementary schools, the Pottstown School Board now faces the daunting task of trying to figure out how to shave costs off a project that could cost as much as $50 million.

One way, which was raised last week by architect Hal Hart, is to go green.

More energy efficient windows, geo-thermal heating and cooling systems were just two of the things Hart mentioned as possibilities.

But "going green" is often an investment which does not see immediate financial returns and requires a little bit of faith. The traditional knock against going green is that its systems cost more up front and it takes years to make the up-front money back before you begin to realize the savings.

The knock has a hard basis in fact. As anyone with any familiarity with grants for eco-projects knows, most grants, particularly for those with an energy-savings component, pay the difference between traditional systems and the more-efficient but more-expensive green systems.

In a tax-base challenged borough like Pottstown, spending more money up-front for any reason is going to be a hard sell.

But Hart had an interesting observation and a suggestion about a new financing method that seems promising.

He said in some projects his Harrisburg-based firm has conducted, they have been able to finance green systems without any increase in price up front.

Although specifics were not offered (it was not the time as the board was still in the midst of deciding how many schools to keep) the idea seems to have merit.

What happens, Hart said, is that the difference between the more expensive green systems and the traditional ones is paid off over time with the savings on energy costs.

In other words, if the district saved $8,000 in fuel costs in 2010 as the result of having a geo-thermal system, that money would go toward paying the higher cost of the system, which was not paid up front, but financed until the additional cost was paid off. Once the difference is paid off, the savings accrue to the taxpayers.

This seems like a "win-win" solution (God I hate that phrase. Forgive me for using it). Let us hope the board pursues it.

If Pottstown schools do go green, as speaker Wendy Wilkinson suggested during one of many public hearings on the issue, they won't be alone.

Schools across the country are using solar panels, organic gardens to feed their students and using energy efficient fixtures.

According to
this Oct. 10 story in The New York Ti
mes, "New Jersey and Connecticut are among 10 states in the nation requiring schools to use renewable energy sources for new school construction and major renovations."
Schools are in a unique position to serve as role models.
"You've got to walk the walk, not just talk the talk of what you are preaching," Steven Frantz, a retired school principal who is coordinating Scarsdale's efforts, said in the Times article.
The article also cites Rachel Gutter, senior manager of the education sector for the U.S. Green Building Council, who said 1,000 schools nationwide are registering for certification under the Leadership in Energy and Environmental Design program, or LEED, a green standard. About 115 schools nationwide have already been certified as meeting the standard, she said, and the number of those interested is growing every year.
"A recent study by the
American Federation of Teachers
showed that the costs of renewable energy technology and energy efficiency programs are decreasing, coming in at $3 more per square foot, or 2 percent more over all, to build a green school. 'With new construction, the biggest challenge is not related to cost but the perception of cost,' Ms. Gutter said."
Certainly, Pottstown's school vote itself can be argued on an environmental standpoint.

Those who favored closing all the schools and building a single, consolidated campus, could correctly argue that economies of scale and the potential to build a fully green campus would have reduced the district's environmental burden significantly.

At the same time, renovating existing schools, which are generally built in a more robust way, takes advantage of preserving the "embedded energy" it took to construct the building in the first place, as well as offering an example for a town full of older buildings.

The nature of the split vote by the school board represents that this matter is by no means settled in people's minds. However, the two areas of disagreement have more to do with cost and educational issues than the environment, so The Thin Green will tactfully (and with full acknowlegement of its own cowardice) prudently avoid them there.

Instead, it seems prudent to merely observe that, as board member Judyth Zahora noted, whether you agree with it or not, the decision has been made. "Now we move on," she said Thursday.

Perhaps one area to build consensus and help pull the board and the community back together, is making the decision to make these buildings and extensions as green, energy efficient and as sustainable as possible.

It will have the triple advantage of actually doing what we tell our students every day they should be doing, as well as having the potential to save taxpayers money and might just help to save the world those students will inherit.

Wouldn't that be a great lesson for our town to teach?
Labels: energy efficiency, Green Building Council, Judyth Zahora, LEED, Pottstown School District, sustainability, The Hill School