Slime is the Earth's Best Friend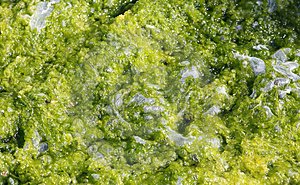 "I collect spores, molds and fungus" is one of the classier lines in "
Ghostbusters
," the 1980s blockbuster which is my 10-year
old's
newest favorite movie.
We should throw algae in there as well.

Never a big fan, I tend to think of it as the stuff that makes me want to stop swimming in the local swimming hole.

But algae has a green side (pun intended) that falls into the "everything-old-is-new-again" category.

It seems that millions of years ago (for those non-creationists out there) algae saved the world, and we may just need it to do so again.

Way back before there was a Thin Green Line, or a Mercury for that matter, the earth was an inhospitable place; made so, no doubt, by the absence of a good local newspaper ... among other things, like clouds of poisonous gas.

But it turns out that algae likes poisonous gas, and when it eats poisonous gas, it makes the kind of gas we can all appreciate -- oxygen.

According to
this story in Reuters
, scientists now think algae can be used to make fuel. After all, it has done so before.
Not only did the algae turn sunlight and carbon dioxide into oxygen and sugars through photosynthesis, when it died it had the good sense to float to the bottom of the sea and, after a few dozen
millennia
, turn itself into some of the oil we now burn today.
"But why wait?" say modern scientists.

According to the article: "The race is now on to find economic ways to turn algae, one of the planet's oldest life forms, into vegetable oil that can be made into
biodiesel
, jet fuel, other fuels and plastic products.
'So we are harvesting sunshine directly using algae, then we are extracting that stored energy in the form of oil from the alga and then using that to make fuels and other non-petroleum based products,' Skill said.
He predicted that industry will be cultivating algae in viable quantities for commercial oil production with a decade.
Such fuels are considered to be net carbon neutral because the algae absorb greenhouse gases when they grow."
So buy your algae stock now folks, it's the slime of the future!